New TV's PVR can save video to SD chips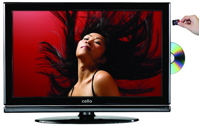 British LCD TV maker Cello Electronics has populated the European budget TV market with devices sporting some atypical features, such as the <!external href="http://www.freemans.com/Soundwave-Silver-22-ins-i-Pod-DVD-Combi-2297S/productdisplay.stm?An=681&A=11T523%5F&N=430+4294953268+681+699+706&Nao=12&Au=P%5FMasterItem&Nu=P%5FMasterItem&Ns=P%5FColour%7C0%7C%7CP%5FSize%7C0">TV with an iPod Dock, which are designed in China and manufactured by North England subcontractors.
Like Vizio in the United States, Cello has <!external href="http://www.fasttrack.co.uk/fasttrack2002/press/Tech08-Northeast.pdf">grown rapidly in the last four years because of its affordable, but feature-rich products.
This week, the company <!external href="http://www.pocket-lint.com/news/news.phtml/25000/cello-pvr-television-records-sd-cards.phtml">has been receiving second looks for its new LCD TV that includes the ability to record over-the-air broadcasts directly onto SD cards. Other TVs are equipped with SD slots, namely Panasonic units equipped with <!external href="http://www.panasonic.net/avc/viera/us/viera-imageviewer/index.html">Viera Image Viewer for viewing photographs and video captured on Lumix digital cameras. Cello's offering, however, is the first TV PVR that records to SD. It is equipped with two tuners and two SD slots for simultaneous Freeview recording, a built-in electronic programming guide and DVD player.
Cello sells its sets through third party resellers under the Cello and Soundwave brands, such as Asda, Comet, John Lewis, Netto, Sainsbury's, as well as catalogs from Freeman's, Grattan, Studio and Ace. <!external href="http://whathifi.com/News/Cello-Electronics-launches-PVR-TV-using-SD-cards-not-HDD/">Reports have said the 26" version of this TV will cost £399.99, and the 32" will cost £469.99, but it the device appears to have already shown up Ace Catalog for £369.99 and £449.99. There, the <!external href="http://homeshopping.24ace.co.uk/electricals/home-entertainment/televisions/4/goldconnectorhdmilead/1">SD card is shown, but not mentioned in the feature list. Widespread availability is expected to begin in July.