Sony's latest e-reader finally adds 3G wireless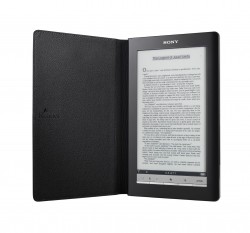 After debuting two new products in its Reader family at the beginning of the month, including the <!article id="1249496333">lowest-priced e-reader yet, the $199 "Pocket Edition" PRS-300, and the $299 touchscreen model aptly called the "Touch Edition," Sony has fully stepped up its e-reader game. As the company announced this morning, it is finally endowing one of its Readers with wireless connectivity, the critical feature which has already pushed Amazon's Kindle into the top of the class.
Kindle has offered 3G wireless connectivity from Sprint from the start, allowing users to acquire new content and update subscriptions effortlessly. But come this December, Sony's new $399 Daily Edition will have a 3G wireless connection through AT&T, and a 7-inch touchscreen display which can be used in portrait or landscape mode.
A recent study from NPD showed that what potential buyers wanted more than books were magazines. The analysts group posited that the first e-reader device to bring suitable magazine-style content on a regular basis may be the one to break through to the conscience of the mainstream buyer.
To that end, the Daily Edition sports a unique feature. It will be the first e-reader to have free book "rentals" through <!external href="http://www.overdrive.com/">OverDrive through over 9,000 public libraries. Users will be able to register for an e-reader library card that allows them to check out books for 30 days. At the time of Sony and OverDrive's announcement earlier this month, the process of taking out library books was described as such: "Users must browse or search their library Web site, check out their selected eBook with a valid library card, and download to a PC.  Once downloaded, the eBook may then be transferred to the Sony Reader via free Adobe Digital Editions software."
When the 30 days is up, the books simply expire, and there are no late fees.
<!image id=3772 center>