Stadium event source of first signals of Silverlight-bearing 'Bing 2.0'

The initial rollout of Bing search has been moderately successful -- it's recaptured a few points of market share for Microsoft at a time when Windows Live Search had not seen a share gain in several years. Yesterday at a company shindig thrown at Safeco Field in Seattle -- which featured entertainment from comedian Seth Meyers, bands, and an expected audience of 40,000 -- the biggest news to be tweeted from excited guests at the event (plus a few analysts who picked up the private stream remotely) concerned a possible near-term rollout of Bing 2.0.
One tweet from Microsoft software engineer Sushil Choudhari yesterday read, "Saw the demo of Bing 2.0, super imressive! Watch out its release next week!!" [sic]
If the early tweets are to be trusted, expect Silverlight to play a much more major role in this iteration of the platform, in two critical areas: maps and location, and "search visualization" -- giving users the option of applying graphical flare to the search process. That's the keyphrase Microsoft coined two years ago for its experimental search platform, dubbed "Tafiti." Some of the ideas tested there are a bit crude (dragging retrieved photos around and clipping them to a clipboard, for instance); and overly metaphorical, such as watching newer search retrievals sprout forth on a tree (along with leaves), and then age as the background evolved from springtime to autumn, like an Edgar Guest poem.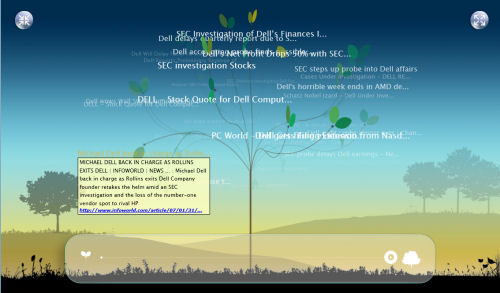 Luis Bitencourt-Emilio, an intern on the Excel team, tweeted, "Bing 2.0's upcoming search visualization is pretty sexy."
A less metaphorical, more practical application of Silverlight in Bing would deal with mapping, where Microsoft still holds a flagging stake in Virtual Earth. Though there was significant Twitter chatter yesterday on the subject, our research has not been able to tie the source of that aspect of the chatter to any identifiable Microsoft employee who also signaled he was at the event.
However, a company social technologies engineer named James Senior did tweet this somewhat self-answering message: "Wondering if the Bing team really wanted everyone at the company meeting to announce on Twitter when Bing 2.0 is going to be released?"