Preview of Windows 7 netbooks, PCs from Asus, Samsung, and ViewSonic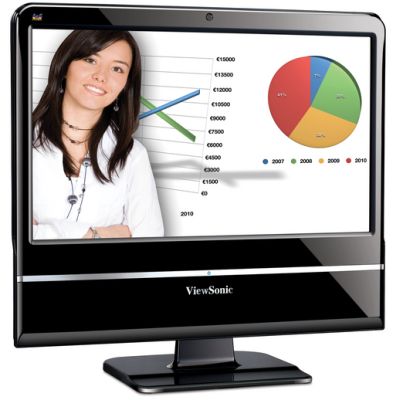 In a flashback to the more prosperous years before the current "deep recession," hordes of truly enthused journalists crowded dozens of vendors' booths at a revitalized Pepcom pre-holiday event in New York City last week, waiting for their turns to get up close and personal with forthcoming consumer electronics wares.
ViewSonic, a company known until now mostly for its monitors, introduced a total of four new PCs at Pepcom's press event Thursday night.
The ViewSonic entries include the Windows XP-driven All-in-One PC VPC100 (shown above), plus three Windows 7 systems: the 13-inch ViewBook Pro VNB131 notebook; 10-inch ViewBook VNB102 netbook; and PC mini VOT132 (below), an Intel Dual Core Atom 330 processor-based mini-netbook aimed at serving as the centerpiece for building your own all-in-one system.
<!media id=3869 center>ViewSonic's 10-inch VNB102 wraps an Atom N270 CPU, 1 GB of RAM and a 160 GB hard drive in a traditional netbook form factor, for $349 with a three-cell battery or $399 for a six-cell version.
Also in its bustling booth, ViewSonic showed off two new palm-sized MovieBooks for playing back movies on a 4.3-or 5-inch screen while you're on the go.
<!media id=3870 center>
For its part, Samsung gave its first US look at two more Windows 7 netbooks: the N140, a 10.1-inch, 2.8-pound replacement for the NC10, touted as raising battery life from five hours to 11 hours; and the N510, an 11.6-inch device featuring an HDMI port, along with an Nvidia Ion graphics chip for running high-definition movies and 3D games.
Slated for US shipment in November, the N140 will run Windows 7 Starter Edition while the N510 will run Windows 7 Home Premium Edition, said Jason B. Redmond, a senior manager at Samsung for marketing communications. The N140 will come in both black and burgundy flavors.
Redmond told Betanews that Samsung will also update its existing Go netbooks, first rolled out last summer, with both 3G wireless and Windows 7 Starter Edition following Microsoft's launch of Win7 on October 22.
Asus made the first public display anywhere of its already announced 14-inch UL80V ultraportable and 16-inch N61Vg multimedia notebooks, along with its 20-inch EeeTop ET2002 HD entertainment center and two new netbooks: the 8.9-inch Disney Netpal for kids and the 10.1-inch Eee PC 1008HA Seashell.
Although the Asus notebooks were outfitted with Windows 7, the Disney Netpal still sported Windows XP. In sort of a proof-of-concept, though, Asus installed Windows 7 on the Seashell just for the Pepcom event, to show that the new OS will work on a netbook.
Josh Norem, senior technical marketing specialist at Asus, told Betanews that all of Asus' recently announced notebooks and netbooks will be running Windows 7 by the November time frame.
He hedged a bit, however, when asked about other future products from Asus, perhaps in reaction to press leaks of an Asus product roadmap, widely circulated a few weeks ago.
Will Asus release additional Windows 7 products in November? "Probably," Norem answered on Thursday. Are any more Linux netbooks on Asus' drawing boards? "Not at this time," he replied.
As for the revamped Skype video phone, a major update to the "industry first" announced at <!article id="12218604160">a Pepcom event last year, the new and more streamlined unit -- known as the AiGuru SV1T -- features a touch screen and other enhancements for much easier dialing and navigation.
Norem said Asus is targeting its latest desktop VoIP videophone at senior citizens and others who are daunted at the thought of making Skype calls on a PC. The phone runs its own WebOS, produced by Asus, according to Norem.
Meanwhile, other vendors, <!article id="1253017166">including Lenovo have also been pre-announcing Windows 7 PCs over the past month or so.
As sort of a counterpoint to the Windows 7 frenzy, HTC gave hands-on demos in New York City on Thursday of the <!article id="1245859976">Hero, an Android phone set for release by Sprint in October. But will the new consumer electronics products -- whether Windows 7- or Android-driven -- stimulate consumer spending enough this holiday season to give the economy a significant jolt? No doubt we could all use a little Christmas this Christmas.