Motorola and Verizon unveil the Droid, Google Maps navigation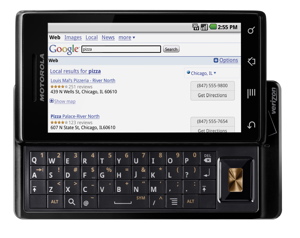 After a long period of rumors, leaks and teaser marketing campaigns, Verizon and Motorola have officially announced Droid, Verizon's first Android smartphone, and the first Android device running Eclair. It will be available on Friday, November 6, for $199 with a two year contract and mail-in rebate.
Motorola's Contribution:
In addition to pricing and availability, the complete list of specs that was leaked a bit early (and subsequently yanked) has been published by Motorola. It can now officially be said that Droid is nearly identical in size to the iPhone 3G S, with a screen 0.2" larger, and a body only 0.02" thicker despite having a full QWERTY keyboard.
The slim Droid has a 3.7" (480x854) WVGA capacitive touchscreen, and includes a 16 GB memory card which can be replaced by microSD cards up to 32 GB. Today's announcement unfortunately does not include processor speed (listed as 550 MHz in leaks) or clarify whether it includes a discrete graphics chip as many had speculated.
<!image id="3988" right>What it does include is EV-DO rev. A 3G, 802.11 b/g Wi-Fi, Bluetooth 2.1 +EDR, a 5 megapixel autofocus camera with dual LED Flash and digital image stabilization and DVD-quality video recording, aGPS and standalone GPS, a 3-axis accelerometer, and 6.4 hours of talk time or 11.25 days of standby.
Google's Contribution:
With yesterday's launch of <!article id="1256663721">Eclair in the Android SDK, we got to see a number of the new APIs made available to developers in addition to some interface and support improvements that Droid will offer, such as HTML5 and Flash 10.
But we kept seeing "navigation by Google Maps" in early Droid announcements, with little information as to what this represented. Today we've found out that Droid will launch with free navigation from the new Google Maps for Android 2.0 beta. It combines "plain English" voice command, turn-by-turn directions and its unique Street View perspective which is unlike any other GPS device currently available.
Verizon's Conribution
In addition to providing the 3G Network infrastructure that Google CEO Eric Schmidt is so fond of, Verizon is equipping the Droid with Verizon Visual Voice Mail. When T-Mobile launched the G1, visual voicemail was not an option until third parties such as YouMail and Phonefusion made apps providing the functionality. It was not until considerably later that T-Mobile Visual Voicemail was an option presented to Android early adopters.
Droid will be available exclusively at Verizon Wireless stores and through Verizon's Web store on Friday, November 6.