Insider trading scandal claims former AMD CEO after IBM SVP indictment

In what may become the most wide-ranging insider stock trading scheme to be uncovered this decade, evidence uncovered last month by the US Securities and Exchange Commission led to the indictment last week of IBM Senior Vice President Robert Moffat, believed to have been the next-in-line for the CEO post. Moffat was indicted on October 16, arrested on criminal insider trading charges, and has posted $2 million bail, according to reports.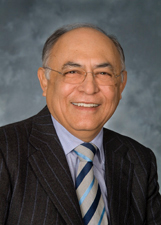 Now, the latest name to become linked to the alleged scheme has submitted his resignation, effective next January, and will take a leave of absence in the interim. Dr. Hector Ruiz was chairman of GlobalFoundries, the manufacturing entity spun off from AMD, which Ruiz led as its chairman and CEO during the dawn of the multicore era.
Last Wednesday, a Wall Street Journal report identified Ruiz as an individual responsible for communicating information about the timing and scope of AMD's spinoff of GlobalFoundries, to a team of traders that included McKinsey director Anil Kumar and New Castle portfolio manager Danielle Chiesi, whom the SEC says were working with Moffat. The SEC complaint itself (PDF available here) does not actually specify that any AMD individual delivered Kumar and Chiesi that information, only that it was communicated.
However, if the WSJ's report is accurate, the communication would have taken place before October 2008, while Ruiz was still AMD's chairman and before the spinoff was publicly announced. GlobalFoundries is the chip manufacturer that was spun off from AMD last March, in a massive restructuring operation whose objective was to save AMD by slashing its overhead.
According to the SEC complaint, Kumar, working in partnership with Raj Rajaratnam, the managing general partner of hedge fund Galleon Management, used non-public information about the spinoff to "two Abu Dhabi sovereign entities" as early as mid-August 2008 -- October 7 was the date of the spinoff's public announcement. In late-September, when AMD shares were trading as low as $4.23, Galleon then proceeded to purchase some 5.6 million shares of AMD. Once the deal was announced and share values rose, Galleon netted some $9.5 million from the transaction, according to the SEC.
Ironically, the hedge fund held on to AMD stock throughout October, when it took a dive along with the rest of the tech sector.
Abu Dhabi is the country which itself is one of the principal investors in ATIC, a parent company of GlobalFoundries. So it also seems ironic that Abu Dhabi would have learned about its own majority involvement in the spin-off from inside information allegedly obtained by the head of its minority co-partner.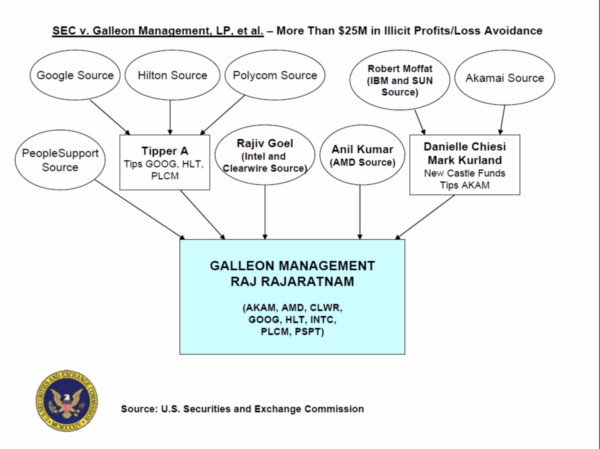 Should the WSJ report prove correct, Ruiz would be the co-between between Kumar and Rajaratnam as depicted in this SEC chart released October 18. Moffat is charged with criminal involvement for allegedly providing information about IBM and Sun Microsystems, specifically with regard to IBM's interest in acquiring Sun, which was communicated to Sun last January. Although Oracle ended up the winning suitor, Moffat was part of the team conducting due diligence on Sun. The SEC complaint alleges Moffat communicated non-public information about Sun's fiscal Q2 2009 earnings to Danielle Chiesi, who may have also been a contact of the AMD informant -- allegedly Ruiz.
It does not stop there. The SEC also alleged that Rajaratnam continually received insider tips on Intel from the head of its own venture capital division and managing director, Rajiv Goel, also depicted on the SEC chart. Goel heads Intel's treasury group, which is an Intel subsidiary that is separate from its manufacturing operations and reports directly to CEO Paul Otellini. Information allegedly obtained directly from Goel about Intel's rising fortunes in early 2007 helped Rajaratnam and Galleon to purchase Intel stock at a low, then sell short later in the year as the flagging economy forced Intel's profits to come in below estimates, according to the SEC complaint.
Goel was also knowledgeable about the WiMAX partnership between Sprint and Clearwire, especially because WiMAX is an essential part of Intel's technology portfolio, and thus Intel was involved in the discussions. For instance, when the once-dead deal between Sprint and Clearwire seemed to resurrect itself in February 2008, three months prior to its being declared on again, Goel communicated the news to Galleon in time for it to establish a long position in Clearwire, and reap some $780,000 from its rising stock value during the rumor period.
And another unnamed single source of deep inside news, referred to in the SEC complaint only as "Tipper A" (an indication that he or she may be cooperating with the SEC), learned from a Google financial consultant inside news about that company's Q2 2007 earnings -- specifically that it would report earnings per share 25¢ below street estimates. Tipper A then communicated that information to Rajaratnam, says the SEC, who acted on that information by exercising over $8 million in put options -- selling its holdings at a pre-agreed, higher price.
The scandal puts to an end the career of one of the more straightforward CEOs ever to grace the technology industry. Hector Ruiz was always beaming with pride when his company fared well against Intel, and was practically dripping with sorrow after Intel roared back in summer 2006. One hopes he will be remembered for his accomplishments, although the extent of this mistake, should the reports be validated, is indeed massive.
---

5:25 pm EST November 2, 2009 · By way of correction, Intel spokesperson Chuck Mulloy told Betanews this afternoon that Rajiv Goel -- one of the six individuals indicted on insider trading charges -- never reported directly to Intel CEO Paul Otellini, contrary to analysts' reports and contrary to the SEC's characterization of the position. In fact, as Mulloy described it, Goel reported to the company Treasurer, who in turn reports to CFO Stacy Smith, who then reports to Vice President Andy Bryant.
That would make Goel "a fairly low-level guy," as Otellini recently told reporters.