Hands-on with Motorola's strange new Android phone, the Backflip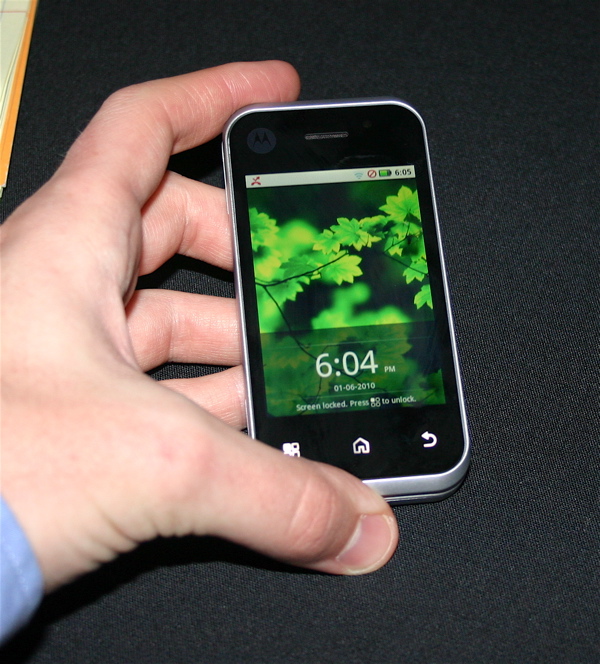 Motorola is fully committed to the Android platform, so that means with an increased number of devices on the platform, there are bound to be some experimental and outlandish ones coming from Motorola in the near future.
One of those is going to be called the Motorola Backflip, which on first glance resembles the Cliq in overall size, shape, and UI. But the similarities end there. Without a doubt the most unusual Android handset to date: the Backflip is hinged like an inside-out clamshell, features a full QWERTY keyboard on the outside of the chassis, and has a touchscreen which features a trackpad on its back side.
<!image id=4331 center>
It really looks like an attempt to re-imagine how a mobile device's surface area is used, and since we've been in a long period where every company releases a device that looks like an iPhone, design innovation is always welcome.
Unfortunately, the innovative features of the Backflip --known internally as Motus-- are of questionable usefulness. The flipping mechanism is awkward and users with small hands probably won't be able to open the phone single-handedly.
<!image id=4329>
The trackpad on the back of the touchscreen is cool, and can be swiped or double-tapped in any application or homescreen, but the interface could have been used as a clever workaround to multi-touch issues (you could do an innovative "pinch" where you touch both the touchscreen and the trackpad, but that doesn't exist on the device.)
<!image id=4328>
Having the keyboard reside on the back of the phone means there has to be a space made for the 5 megapixel flash camera in your typing area. So, like the Droid, the Backflip has a grid keyboard, but the grid is thrown off slightly by the camera, and the ever-important "ALT" key has been moved one space over, and key-based navigation is relegated to arrow keys and not a D-pad or Trackball.
When the device is flipped halfway, it acts as its own stand, and the homescreen turns into a clock and widget station like the Droid does when in its dock. This is good because it eliminates the need for a dock and will launch the clock functions simply by plugging it in and flipping it over.
In all, the features that make the Backflip unique do not make it particularly better, but they certainly do not detract from the Android and MotoBLUR experience.
Pricing, internal specs, and carrier support have not yet been announced for the Backflip, but it will be released soon both in the United States and internationally.