Beta of Amazon Kindle SDK presents unique problems to software makers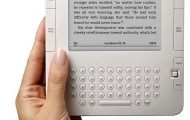 If you're selling a broadband-connected device these days, it's almost required to have a platform for application development that goes along with it. The mobile phone space is overrun with different development options, heck, even <!external href="http://www.hp.com/hpinfo/newsroom/press/2009/090622a.html">networked printers have got one now.
Amazon is about to see if the Kindle e-book reader is a viable platform for third-party apps.
Today, the Web retailer announced that the limited beta of the Kindle Development Kit (KDK) will launch next month, and only a select number of participants will be allowed. Those chosen to participate in the beta will get sample code, full Kindle documentation and a Kindle emulator their for Windows, Linux or OS X machine.
Though the Amazon Kindle has a display that is largely incapable of animations, there are already companies developing "active content" for the e-reader. <!external href="http://www.handmark.com/">Handmark is making a Zagat guide, Sonic Boom is making word games, and puzzles such as Sudoku, and even EA has pledged support for for the platform, though it did not disclose what it is working on.
<!media id=3412 right>But there are a number of limitations that developers will have to face in working with the Kindle, besides the unusually slow refresh rate of the Kindle's electrophoretic display. The popular e-reader's WhisperSync wireless connection, for one, presents an interesting dilemma in how developers would charge for their apps if there were to be a Kindle app store.
Developers that take advantage of the "free" wireless connectivity offered on the Kindle must take bandwidth usage into consideration when pricing their apps, and they must be able to cover those charges with the cost of the app. Free or one-time purchase apps, for example, can consume no more than 100 KB of wireless data per user per month. If they use more data than that, users will have to pay subscription charges (Amazon charges developers 15¢ per megabyte.)
Furthermore, for apps to be downloadable in the wireless Kindle Store, they cannot be larger than 10 MB in size. If they're bigger, they will only be downloadable on the desktop Kindle Store and then transferred to the device over USB.
However, the Kindle's easy-to-read display, long battery life and persistent 3G connection are traits that could elicit some clever and useful applications. To be included in the lottery for beta testers, visit <!external href="http://www.amazon.com/gp/feature.html/?ie=UTF8&docId=1000476231">Amazon's KDK beta site.