Texas Instruments 'Blaze' OMAP 4 tool is a mobile developer's dream toy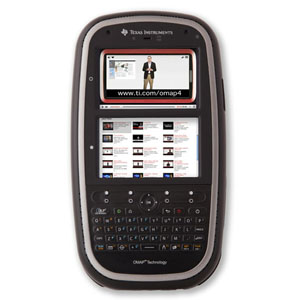 To spur development on the OMAP 4 family of ARM Cortex A9-based systems on a chip, Texas Instruments this week unveiled its Blaze development platform which incorporates nearly everything an OMAP developer/tester could possibly need to into a single tablet-sized device.
Blaze is equipped with two 3.7" capacitive WVGA touchscreens, three multi-megapixel cameras, a pico projector, HDMI out, accelerometer, compass, sensors for light, temperature, barometric pressure, and proximity, Wi-Fi, GPS, Bluetooth, FM transciever, and broad support for digital microphones and stereo speakers.
As far as cellular modem support, the Blaze MDP can be connected via an expansion bus breakout connection, and any PCIe-supported modem can be used to provide 3G connectivity.
<!external href="http://svtronics.com/market_omap">The Blaze development platform will reach general availability in mid-2010, and widespread production of the OMAP 4 platform will come in the second half of 2010.
Unfortunately, TI won't be releasing a full sheet of specs until the device comes out later this year.