Who's more neutral? Republican bill would forestall FCC's 'Third Way'

It was inactivity from Congress on the matter of broadband Internet regulation that forced US Federal Communications Commission Chairman Julius Genachowski into an almost impossible situation. Taking what appeared to him to be the only legal and rational approach available, he boldly suggested last week that the Commission set up a system for splitting hairs over which parts of broadband fall under Title II of the Telecommunications Act, and which ones fall under Title I.
Perhaps unsurprisingly, it's the FCC's effort to accomplish what Congress couldn't, that has spurred at least some parts of Congress into action. Yesterday, one of the House's leading net neutrality skeptics, Rep. Cliff Stearns (R - Fla.), made good on a pledge his office revealed to Betanews last October, drafting new legislation that would prevent the FCC from building a "Third Way" for itself, unless it could prove to Congress that there was an emergency, and it could provide a cost/benefit analysis supporting its theory.
Rep. Stearns' bill (PDF available here) would also seek to close what he perceives as a loophole in proposed net neutrality legislation, which could pass Congress within our lifetimes. One provision, labeled "Neutral Network Neutrality," would mandate that the FCC could only regulate the provisioning of services (which is, after all, what neutrality regulation would truly be about) in a non-discriminatory manner, and only in response to a public complaint -- not on its own initiative.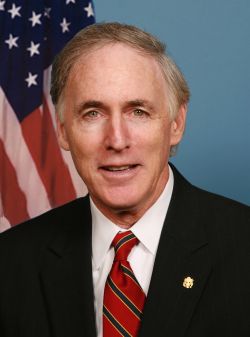 "The Commission shall apply and enforce any regulation governing the rates, terms, conditions, provisioning, or use of an information service (including any transmission component of an information service whether or not the transmission component is offered for a fee directly to the public or to such class of users as to be effectively available directly to the public regardless of the facilities used) or an Internet access service on a nondiscriminatory basis between and among broadband network providers, service providers, application providers, and content providers."
As Stearns and colleagues warned Chairman Genachowski in his letter last October, "Your recent status report on the national broadband plan estimates that the total investment required to achieve universal broadband deployment will require between $20 billion and $350 billion. Network neutrality rules would make it harder, not easier, for such investment to occur. A one-size-fits-all Internet where every entity must provide the exact same levels of service and that costs consumers more on average for slower speeds and less innovation will not be very competitive. Nor will it serve consumers well or draw much investment for further improvements. Even if there is a problem, it does no good to adopt a regulation if it performs more poorly than engineers and markets in addressing that problem."
The drafting of Stearns' new bill follows the launch of a campaign to associate net neutrality with increased government regulation in the public mind. The picture they want to paint there is one of an evil, left-wing movement to restrict public access to information -- censorship under the guise of fairness.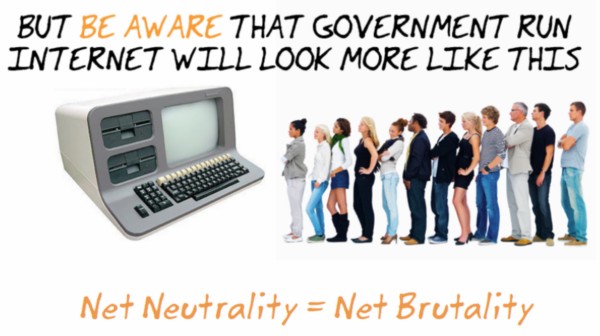 As the new group's brochure (PDF available here) reads, "NoNetBrutality.com is a grassroots campaign to raise public awareness for this threat, to bring all net neutrality opponents together under one common banner and to petition the FCC stop its attempts to regulate the Internet. NoNetBrutality.com was launched in April 2010 by six liberty-minded activists from six different countries who fear that the current attempts of the US government to restrict access to the Internet might be followed by other governments if we don't fight these flawed and dangerous ideas now -- before they can spread and take root all around the globe."
The group's blog claims that the DC Circuit ruled last month that the Internet falls under neither Title I or II, and that the FCC no longer can claim any regulatory authority over the Internet whatsoever. A casual read of the court's decision reveals otherwise.
Rather than address NoNetBrutality's claims with a scalpel, however, the advocacy group ThinkProgress has opted for another vast government conspiracy approach on the opposite side of the spectrum. Though not mentioning Stearns specifically this time, ThinkProgress cites what it calls a leaked PowerPoint presentation from NoNetBrutality (which actually reveals nothing that its own Web site doesn't publish) as evidence that this opposition group is linked with 1) US telecom industry leaders, 2) extreme right-wing advocates including Glenn Beck; 3) the American Cable Association.
However, in a statement to Betanews and others last week, the ACA's president and CEO, Matthew Polka, did not actually express opposition to the notion of the FCC finding some third way to regulate the Internet. Polka did express skepticism over Genachowski's specific methods.
"ACA appreciates that the FCC is attempting to find some middle ground under its new 'Third Way' approach to protecting the open Internet announced yesterday," Polka said. "However, classifying cable broadband service under Title II for the first time, even with numerous forbearances, creates uncertainty in the market and runs the risk of producing unintended consequences, especially for small- and mid-sized broadband providers. Still, ACA remains committed to working with the FCC on this matter in the year ahead to ensure the right result is reached for consumers and the operators who serve them."
"Unintended consequences" appears to be a very fitting term for the chain of events that Genachowski has set forth. Although Rep. Stearns may introduce his legislation this term, it may not have the opportunity to be debated on the House floor until the next term. That's important, because at the very least, Democrats' majority in that house is likely to be reduced, even by Democrats' estimates. With perhaps some support from a handful of Democrats, Stearns and his colleagues in Congress may be able to stop the FCC from doing what Congress forced it to try to do.
---

10:50 am EDT May 13, 2010 · An article this morning by Declan McCullagh published by CNET and CBS News suggests (or, perhaps more fairly to McCullagh, its headline suggests) that, since the NoNetBrutality.com campaign was essentially made up of two guys, a copy of PowerPoint, some clip-art, and a hundred-dollar grant from a non-profit research firm, the organization may not be legitimate.
NoNetBrutality's organizers actually published the fact of its limited funding on its blog. What may have been severely overstated was the extent of the vast conspiracy, as outlined yesterday by the advocacy group ThinkProgress. Its blog post linked the group's organizers directly to the Atlas Economic Research Foundation, rather than acknowledging them as participants in a research project that was essentially a contest.