Android and iPhone are turning the world into smartphone users, says research

Just over a week ago, NPD Group released its Wireless Market Research report for the United States, which showed BlackBerry devices leading the smartphone market with 36% penetration, then Android-based devices followed with 28%, and then Apple's iPhone came in third with 21%.
Today, IT research firm Gartner released its first quarter 2010 sales figures for the worldwide mobile device market, and we got a view of how the Smartphone OS market is changing.
Indeed, Android's explosive growth in the States is having an impact worldwide, but so is the iPhone's growth outside of the U.S.
"In the first quarter of 2010, smartphone sales to end users saw their strongest year-on-year increase since 2006," said Carolina Milanesi, research vice president at Gartner. "This quarter saw RIM, a pure smartphone player, make its debut in the top five mobile devices manufacturers, and saw Apple increase its market share by 1.2 percentage points. Android's momentum continued into the first quarter of 2010, particularly in North America, where sales of Android-based phones increased 707 per cent year-on-year."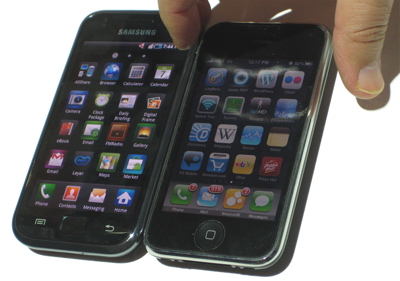 This puts Google's mobile OS in fourth place globally behind Symbian, BlackBerry OS, and iPhone OS. Android's rise to this position has placed it above Microsoft's Windows Mobile for the first time.
Android and iPhone OS were the only two mobile operating systems to globally increase their market share. Symbian dropped by 4.5% year over year, BlackBerry OS dropped by a modest 1.2%, Windows Mobile dropped by 3.2%, and Linux dropped by 3.3%.
Apple managed to increase its mobile device sales by 112% during the quarter too, said Milanesi, "Partly from new communication service providers in established markets, such as the UK, and stronger sales in new markets such as China and South Korea."
Every smartphone combined still only amounts to 17.3% of the total mobile device market (54.3 million units,) but that market is growing quickly. The same period last year, only 13.9% (36.5 million units) of all phones sold were smartphones.
With a new iPhone expected in the next quarter, and a major Android update coming soon, the smartphone market is poised to continue its growth as long as the two "app-centric" operating systems keep innovating and enticing users to adopt.