After five years, 64-bit editions of Windows make up nearly half of install base

64-bit editions of Windows have been available to OEMs and consumers for five years, and they have finally begun to exhibit command over the PC market, Microsoft reported today.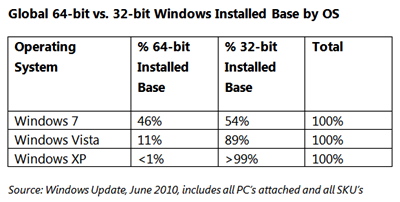 By June 2010, 46% of all PCs running Windows 7 were running the 64-bit edition. Three and a half years after Windows Vista launched, only 11% of users have installed the 64-bit version, considerably fewer than Microsoft claimed in 2008 when product manager Chris Flores told us "20% of new Windows Vista PCs in the U.S. connecting to the Windows Update were 64-bit..."
Irrespective of Vista's performance, Microsoft evangelist Chris LeBlanc says there are certain factors contributing to the growth of 64-bit editions right now.
First, the cost of memory has dropped significantly in the last five years, a majority of processors are 64-bit enabled, and more compatible hardware and software is available today. Secondly, companies such as Intel are upgrading their internal systems to the 64-bit architecture.
Gartner predicted last year that as much as 75% of all enterprise PCs will be running 64-bit editions of Windows by 2014.
"On the surface, it would appear that the most obvious time to perform a move from 32-bit to 64-bit would be during an operating system migration (such as from Windows XP to Windows 7). Many companies feel that, if they don't make the move now, they may have to wait until Windows 8 or potentially Windows 9 before another opportunity arises," Gartner's research said.