New software beta lets Windows PCs use iPad as wireless monitor

---
Download MaxiVista iPad for Windows from Fileforum now!
---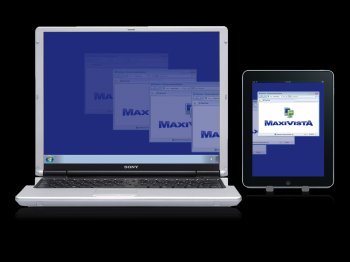 Windows users can now use the Apple iPad as a wireless display extension with a software package released in beta today called MaxiVista from German software company
Bartels Media
.
MaxiVista's multi-monitor software lets users extend their desktop across other PCs and Notebooks, and utilizes a special data compression so the CPU and network load stay low. While the frame rate isn't exactly good enough to handle video playback or gaming, it is useful for non-graphically intensive applications, and it doesn't require any unique hardware.
"The new graphic card standard, WDDM, that was introduced with Windows Vista prohibited the use of multiple graphic cards from different manufacturers on one computer. MaxiVista is the first application of its kind to overcome these limitations and functions with Windows XP as well as with Windows Vista and Windows 7," General Manager Gunnar Bartels told us this morning.
For MaxiVista to function, users must download a $9.99 iPad application. The Windows part of the software is free, and video drivers are compatible with both 32 and 64 Bit operating systems. Interestingly, there is not a version yet compatible with OS X, but it is reportedly on the way.