Wacom's Bamboo Touch offers its own brand of trackpad magic

On Tuesday, Apple launched its second multi-touch peripheral, the Magic Trackpad, which elicited an immediate reaction from tech spectators. TechCrunch's MG Siegler declared it to be the harbinger of the end of the mouse era, and 90% of the more than 700 readers who answered Macworld's informal poll "would you buy this input device?" said they would.
A spark in multi-touch trackpad interest could prove to be a great boon for Wacom, the company synonymous with pen and touch tablet interfaces. For nearly a year, Wacom has had its own multi-touch trackpad called Bamboo Touch on the market, which is $20 cheaper than Apple's Magic Trackpad, offers similar functionality, and does not require two AA batteries (because it runs on a powered USB connection instead.)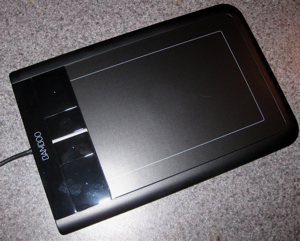 Ease of use
While the device is immediately recognized by machines running either Windows or Mac OS, it lacks all of the gesture-based functions without the associated Bamboo driver. Once the drivers are installed, however, the user can orient the Bamboo Touch as either a right-handed, or left-handed peripheral, and begin using two-finger up and down page scrolling, pinch to zoom, two-finger rotate, and left and right page flipping. These gestures work well and should already be familiar to users of touch interfaces.

Unlike Apple's Magic Trackpad, which can be pressed down and clicked, the Bamboo Touch has four dedicated "ExpressKeys" which can be assigned different functions or shortcuts when they are clicked. Each button can act as one of five clicks; user-defined keyboard shortcuts; modifier keys like shift, alt, or control; forward or back; show desktop; switch application; open/run application; Ink toggle, and touch toggle. In this respect, the Bamboo Touch is actually more versatile than the Magic Trackpad because it can actually replace some degree of keyboard functionality.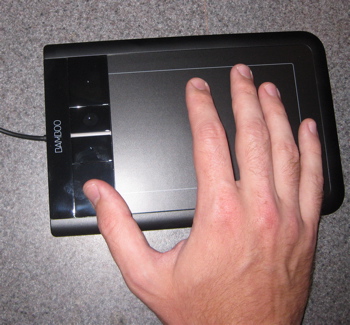 Support
Wacom Bamboo Touch works on Windows 7, Vista, XP (SP2), and Mac OS 10.4.8 or higher. Apple's Magic Trackpad right now only has full support on Mac OS 10.6.4 with the software update issued on Tuesday. The device can be used in Windows running in Boot Camp, but lacks the trademark pinch to zoom and rotate gestures, as well as three and four-finger inputs.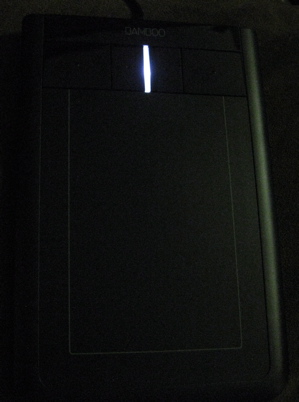 Usability
On the negative side, the Bamboo Touch connects via USB, and the cable is quite intrusive. When using the device with a notebook, there ends up being a considerable amount of slacked-out cord sitting around, and when using it with a desktop computer, there is not much in the way of freedom of movement. Since it only weighs 7 ounces, flimsiness also becomes a bit of an issue.
In terms of a complete experience, the Bamboo Touch is very different from Wacom's graphics and productivity-focused Intuos product line. However, this is not to say it is an unfavorable one. Simply put, it feels like a trackpad and not like a tablet, so it is more a competitor with the Magic Trackpad than a substitute for another Wacom product.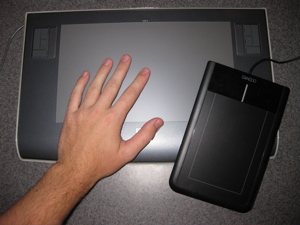 | Apple Magic Trackpad | Wacom Bamboo Touch |
| --- | --- |
| $69 | $49 |
| 5.2" x 4.3" touch area | 4.9" x 3.4" touch area |
| Bluetooth | USB |
| No buttons, "full body" click | Four ExpressKeys |
| 2 AA Batteries | Power via USB |
| Supports up to four fingers | Two fingers |
| Mac OS X 10.6.4, limited support in Windows 7, Vista, XP | Windows 7, Vista, XP with Service Pack 2, Mac OS X (10.4.8 or higher) |