E-mail becoming a mobile activity as social networks dominate U.S. time online

Leading media research company Nielsen posted a report Monday called "What Americans Do Online..." that details how U.S. Web users spend their time online. According to the research, use of social networks has risen 43% since last year, and they now take up more than a third of the total time an average user spends online.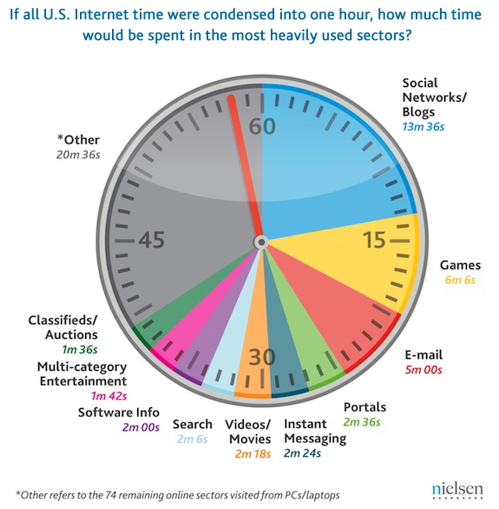 "Despite the almost unlimited nature of what you can do on the web, 40 percent of U.S. online time is spent on just three activities: social networking, playing games and emailing leaving a whole lot of other sectors fighting for a declining share of the online pie," Nielsen analyst Dave Martin said in the company's blog.
Rounding out those top three activities, online games now take up 10.2% of users' time online, and E-mail takes up 8.3%. E-mail usage actually experienced a significant year-over-year drop of approximately 28%.
Market research group Gartner predicted earlier this year that "By 2014, social networking services will replace e-mail as the primary vehicle for interpersonal communications for 20 percent of business users."
Nielsen's findings today said, "The rise of social networking hasn't pushed email and instant messaging into obscurity just yet. Although both saw double-digit declines in share of time, email remains as the third heaviest activity online...while instant messaging is fifth, accounting for four percent of Americans online time."
But this change may not be about social networking replacing email. It could be about the mobile Web experience changing the desktop one.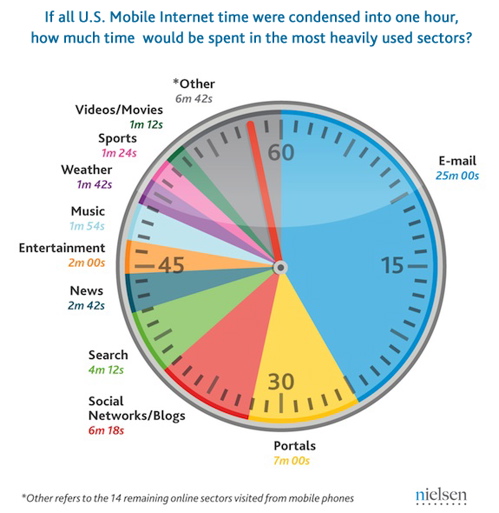 Nielsen's study also breaks out mobile Web consumption statistics, and it appears that while users are spending less time E-mailing from their computers, they're spending more time E-mailing from their mobile phones.
According to Nielsen, mobile E-mail usage increased 4.2% to encompass 41.6% of U.S. mobile Internet time. Social networking did experience a much larger 28% growth in the mobile space, but that activity still only makes up 10% of users' time on the mobile Web.