Clearwire baits bandwidth-hungry iOS users with cheap 4G hotspot

4G network operator Clearwire Wednesday launched a WiMAX hotspot especially designed for Apple's iOS-powered mobile devices called the Clear iSpot.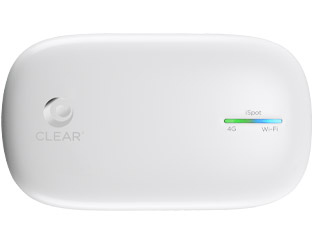 The iSpot connects to WiMAX signals and provides a WEP/WPA/WPA2-protected hotspot with up to a 150 foot range. It weighs 4.5 ounces, offers about 4 hours of battery life, can connect with up to eight iOS devices simultaneously, and is available until August 5th for a promotional charge of only $29.99 with no contract. The MSRP is $99.99.
The device can then be used on a month-to-month basis for $25 per month. It is locked to work only with iPod Touches, iPads and iPhones. Clear's customer service team can unlock the iSpot to work with non-Apple devices, but it is then subject to Clear's standard service plans.
The big idea behind the iSpot is that it lets Clear capitalize on all of the bandwidth-intensive applications available for the iOS platform like Netflix, Hulu Plus, and Facetime, by giving users a simple, flat unlimited data plan that can be shared among all of their iOS devices.
If you witnessed Sprint's launches of the Overdrive 4G hotspot and the HTC EVO 4G, you saw a lot of executives taking little jabs at competitors' products, especially those from Apple.
The company even went so far as to put out advertisements that mocked AT&T and the iPhone. One of them had a character saying, "My friend Steve's iPhone is cool, but it's limited to AT&T's 3G speeds...So I'm going to use the Overdrive 4G mobile hotspot to make it up to ten times faster. And while that's happening, I'm going to enjoy this tasty snack," at which point the narrator took a bite of an apple.
The carrier then showed off an iPad case with a pocket for the Overdrive, which four months later is still listed as "coming soon," on Sprint's 4G site.
Clearwire is taking a decidedly different approach with the iSpot. Instead of mocking iOS users for not having 4G radios in their devices, it is rewarding them with a plan that is cheaper and less contractually binding than many other portable hotspot plans.