Facebook adds check-in feature with "Places," teams up with likely competitors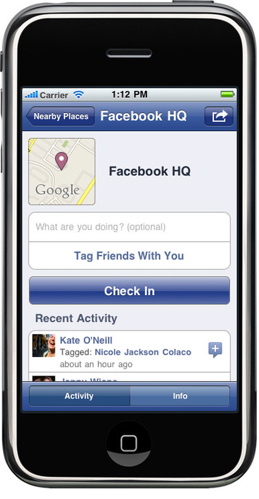 Leading social network Facebook Wednesday announced Facebook Places, a service which adds location awareness to the service's mobile experience.
The service launches tonight in the United States as a part of the Facebook application for iPhone, and on the HTML5 <!external href="http://touch.facebook.com">touch.facebook.com, and users will have the ability to "check in" to their locations similar to the way users on Foursquare, Gowalla, and Brightkite can, and likewise they can find out who and what is available around them.
When users log into their mobile app, a list of "Nearby Places" will be listed, where they can check in, tag their friends (with their approval, of course), and post a text update which will appear in their friends' feeds. Users will also be able to see a list of other Facebook users nearby under "People Here Now."
Though this is a move to make Facebook more competitive in the burgeoning location-based services class, the social network made its Places API available to the services that would otherwise have been its biggest competitors. Foursquare, Gowalla <!external href="http://blog.booyah.com/">Booyah (the company responsible for location-based game MyTown,) and Yelp were all present at Facebook's launch announcement Wednesday. Places data goes live tomorrow for partner applications.
The service will not feature any advertising, and users can opt out of the service entirely and turn off the ability for others to check them in. Underage users of the service will also lack "Here Now" visibility to anyone but their friends.