Adobe updates Web-based Photoshop, no longer demands membership

Now approaching its third year online, Adobe's Web-based photo editing suite Photoshop Express underwent a significant redesign which launched Wednesday. Adobe Photoshop Express Editor, Organizer, and Uploader are included in the refresh.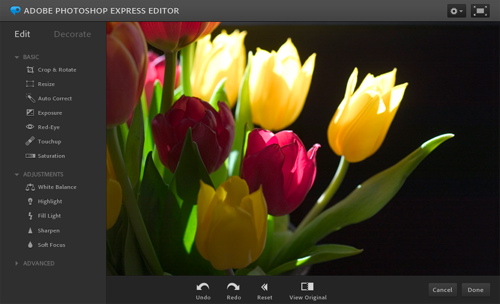 Firstly, a Photoshop.com account is no longer needed to use Photoshop Express Editor. Users can simply navigate to the Web app, upload photos directly from their local drive, edit and change the photos, and then save them back on their local storage. Previously, an account was necessary, and photos were uploaded to online storage first before they were edited. This is still an option, as Photoshop.com members can still store and share photos online as well as create albums, but it's no longer the only way to use the Editor.
Secondly, the Photoshop Express Uploader client application has been streamlined to make the desktop experience a bit more like the experience in Photoshop Elements, or in the Photoshop Express app for iOS and Android. The Uploader handles JPEG, PSD, and various RAW format files and automatically syncs them with a Photoshop.com account.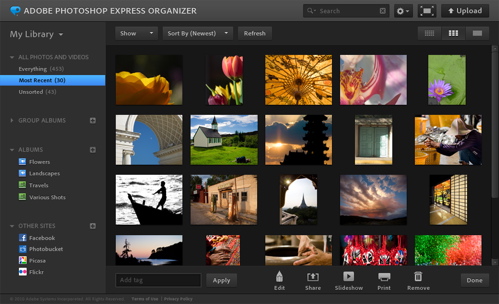 Finally, Photoshop Express Organizer and personal galleries have a new layout and design, which Adobe says are the result of user requests. Now, photo descriptions and comments are more visible, and images can be shared on standalone pages with more comprehensive EXIF data and the ability to leaf through pictures in "filmstrip mode."
"All of our customers, from high-end professionals to more casual photo enthusiasts, want to do more with their digital photos on the web and on different devices," said Matt Domenici, director of product
management for online and mobile digital imaging at Adobe. "We've redesigned our Photoshop Express online apps to make it easier and faster to work with photos online and then share them broadly."