T-Mobile spills details about its next flagship Android device, the HTC G2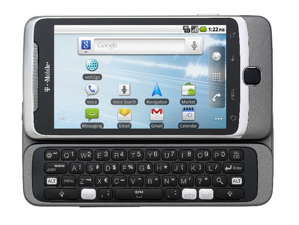 Wireless network operator T-Mobile USA has been incrementally releasing information about <!article id="1282149871">the G2, its first HSPA+ smartphone, and long-awaited sequel to the first Android smartphone, the G1. Thursday, the first official images of the G2 were released, along with some additional specs that have heretofore been unknowns.
<!image id=5310>
The 3.7" touchscreen device may look like a QWERTY slider, but it is actually hinged...Not hinged like a clamshell device, but more like a rack. We've sent an inquiry to HTC to find out more about the benefits of this design, and we will update with the company's reply when it arrives.
It is powered by an 800MHz Qualcomm Snapdragon applications processor, has a 5 megapixel LED flash camera with 720p video capture, a pre-installed 8GB microSD card, with support for cards up to 32GB. It will launch with Android 2.2 (aka "FroYo") and will have seven homescreen panels, based upon the images released by T-Mobile today, the G2 will have the standard Android "with Google" user experience, rather than the HTC Sense UI.
Of course, the biggest feature of this device is its support for the HSPA+ wireless protocol. This is provided by Qualcomm's Mobile Station Modem HSPA+ chipset (MSM7230,) which can utilize T-Mobile's network upgrade that is currently live in 55 metropolitan areas. This network technology has a theoretical max throughput of 21Mbps.
<!image id=5312 center>
T-Mobile still has not announced pricing and availability for the device, but will be accepting pre-orders before the end of September. An announcement before that time is more than likely.