Chatter, the enterprise sector's own Facebook, gets significant update

Enterprise customer relationship management (CRM) software leader Salesforce today unveiled a revamped version of its still-new, social media-inspired collaboration tool Chatter, which is expected to come to customers in October.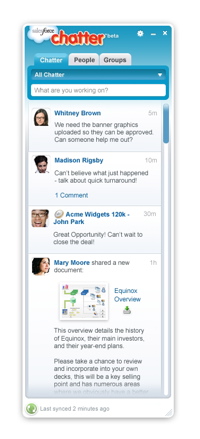 Salesforce is calling the new version "Chatter 2," and it adds more than a dozen new features to the available version of the product, which is essentially Facebook for enterprise. Even though it has only been available since June, Chatter has already been picked up by more than 20,000 companies, including Dell, Hitachi, Misys and Softbank. So this update is no small affair.
Users can now filter their Chatter feeds according to groups, people, and records, topics can now be hashtagged like Twitter and found via search; topics, users, and groups are now automatically recommended based upon common connections, followers and management position; and analytics and reports can be turned into events that users can discuss and follow.
One of the major improvements in Chatter 2 is the inclusion of a standalone desktop client, which is powered by Adobe's AIR, and was built by Adobe Flash Builder for Force.com which was launched to the general public just two months ago.
Styled to be just like the browser-based UI of Chatter, Chatter Desktop lets employees post updates, comments, files and links, but also includes pop-up alerts to instantly notify employees of important updates. In addition to its cross-platform capabilities, these "toaster alerts" were a major reason Salesforce chose to build the application in AIR.
"From Adobe's point of view, this kind of application is why we made Flash Builder for Force.com. Any developer interested in building an online/offline AIR application integrated into the Salesforce cloud can build it with this tool," Adobe representatives told Betanews this week.
Chatter 2 will be available at no extra charge to Salesforce CRM and Force.com customers as early as October, and will be included in the Winter 2011 release.