Microsoft launches Office 2011 for Mac

Microsoft on Tuesday officially launched Office 2011 for Mac in retail. The Mac OS version of Microsoft's popular productivity suite includes Word, PowerPoint, Excel, Messenger, and new to this edition, Outlook.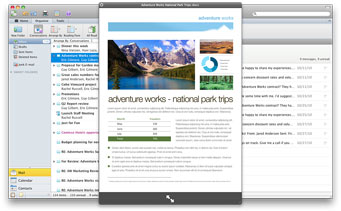 In addition to adding Outlook for Mac, Office 2011 adds a new focus on cloud-based creation and collaboration. It meshes with Office Web apps, SkyDrive, and SharePoint, and brings new co-authoring tools that let users simultaneously edit documents or share presentations with remote users through their browser.
With this increased focus on collaboration, users will be sharing the Office experience across Mac OS and Windows machines, so Office 2011 for Mac also focuses on file format compatibility and homogenous experiences.
"From day one, we focused on making the user experience be both Mac-like and recognizably Office," said Eric Wilfrid, General Manager of Office for Mac. "Over many, many years, we've figured out different ways to make sure that the end product is something that we as Office and Mac users would want to sit down in front of every day and depend on to do our work."
Microsoft announced the pricing for Office for Mac 2011 back in August: Home & Student Edition costs $119 for a single license and $149 for family pack; Home & Business Edition costs $199, and $279 for a 2-license "multi-pack," and Academic Edition costs $99.
Customers can buy Office 2008 until November 30 and upgrade it to 2011 for free.