Google pumps up Android's enterprise viability with admin functionality

Google today announced new administration controls in Google Apps to help Google Apps Premier customers securely deploy and run Android 2.2 devices in the workplace.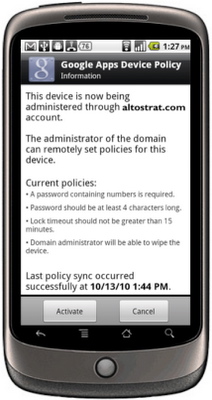 With the new functionality, administrators can remotely wipe all data from lost or stolen devices, lock idle devices after inactivity, and require passwords (of varying strength) on each device. This functionality can be added to either company-issued devices, or personal ones.
These new admin features will be loaded onto devices via the Google Apps Device Policy application, which Amit Singh, Vice President of International Sales at Google Enterprise, says will go live in the Android Market in the next few days. For customers of Google Apps Premier and Education Editions, the app will be free.