Microsoft's Lync: Unified communications meets Kinect, XBox and iPhone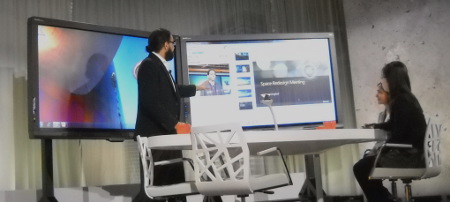 Formally announced at a New York City press conference, but with a live video pop-in from Microsoft Chairman Bill Gates in Seattle, the <!article id="1284404166">latest edition of Lync, Microsoft's unified communications environment will be accessible among huge enterprises, small businesses, and even home-based consumers and gamers.
The actual Lync product unveiled at the rollout, a major update to Microsoft's long-time Office Communications Server (OCS), will run on Microsoft Exchange servers to deliver integrated conferencing services to the predictable desktop PCs, along with specially LCD-outfitted desktop phones, smartphones, laptops equipped with Web clients, and XBox game machines.
Yet almost all of the manifold messaging capabilities in Lync are also slated for inclusion in Office 365, an upcoming cloud-based offering for SMBs which will integrate Windows Live Messenger.
Dropping in on the rollout from Seattle, Gates said the new communications environment fulfills a long-time vision at Microsoft of getting rid of the need for PBXes, 1950s-style desktop phones dedicated to voice calls only, and tons of separate and non-unified multivendor products for videoconferencing, IMing, phone conferencing, and so forth.
I was there at the Lync launch on Wednesday, and I'd already gotten a bit of hands-on time with Lync at a smaller press preview the week before, where I videoconferenced with some other folks, and did some collaborative picture-drawing on a shared whiteboarding app which is also part of the suite.
In my admittedly brief experience with it, Lync seems to be a very slick way of accessing lots of different communications functions under a single user interface. By clicking or touching on a name in the contact list, you can call a co-worker on the phone, start chatting by IM, or invite the person to meet up in a videoconference, for instance. You can also opt to share an app -- or even your whole desktop -- with another user. You can search your contact list for someone with expertise in a specific area. All of that's just for starters.
I also played around a little with the desktop phones built by Microsoft's partners. Obviously, all of the functionality isn't there in the phones. Yet you can do phone conferencing and calling by touching names on the built-in LCD touchscreen, and you can perform shared calendaring from the phone.
At the big launch on Wednesday, Gurdeep Singh Pall, Microsoft's corporate VP for Office Lync and Speech, officially announced that Microsoft will release smartphone software for both Apple iPhones and Windows Phone 7 clients within the next year.
In a move that surprised practically everyone, though, Microsoft also said that users of Lync (and Office 365) will be able to videoconference with home users of XBox game machines through Kinect, a new camera peripheral that tracks users' movements in a room using infrared (IR) wireless.
In a couple of live demos for the large crowd on Wednesday, Microsoft showed off the shared whiteboarding app -- through a simulated interactive conference around "where to put the furniture" in an office redesign -- along with a videoconference between a Lync user in a mock corporate office and a colleague in a hypothetical living room at home. Because the XBox lacks a keyboard, the Kinect user made a lot of arm-waving geatures at the camera.
For the record, the video link to Gates in Seattle appeared to be of high enough quality from where I was sitting in the venue. A glitch did happen when a Microsoft employee -- playing a remote worker who was supposed to be dialing in to the white boarding session from his laptop -- evidently lost his Internet connection.
But Microsoft carried on with the show anyway, hardly missing a beat. Execs described one scenario where this kind of unusual crossplatform conferencing between a corporate office and an XBox might come in handy: a video session between Mom or Dad, away somewhere on a business trip, and the kids at home.
In an interview later in the day, though, Pall told me of another possibility, where a boss might want to access a 20-something worker on a Saturday to ask him a quick question.
I asked Pall about privacy, and he said this is a valid concern. Consequently, with Lync, you can set up the system to tell people that you're unavailable, or post a "do not disturb" blurb, much like you could do with many IM clients. You can also put up a note next to your name and photo in the contact list, letting other people know that you're on vacation that week, attending a conference in Arizona, traveling on a plane, or whatever you want to say about what you're doing.
The corporate VP said Microsoft hasn't yet decided which communications features will be supported in the smartphone clients, and whether support will be given to Android and RIM BlackBerry phones, for example, along with iPhones and Windows phones. But features will vary according to the capabilities of the specific mobile environment, he noted.
"We'd like to focus on putting some of the key features [in Lync and Office 365] into the smartphone software," he added. These features include presence lookup, for finding out whether people are online, and shared calendaring.
<!image id=5513 center>
Microsoft has already created a Bing app for iPhone, he pointed out. In addition, a smartphone client for Nokia's Symbian environment has already been built for Microsoft's earlier OCS, and it will be updated to support Lync in its next edition. Microsoft will also add the shared videoconferencing capabilities for Kinect through a software update.
Corporate Lync customers can ditch their old PBX and phone systems to run Lync entirely on one or more servers. Alternatively, they can hold on to these legacy systems and interface them to Lync through gateways.
Microsoft's unified communications environment does face competition. Rivals include Cisco, Avaya, and most directly at this point, IBM's Lotus. Also during the event, Marty Parker, principal at Unicomm Consulting, told me that his company partners with both Microsoft and IBM on unified communications.
Parker thinks that many existing IBM customers will be happy to continue with Lotus tools such as Sametime. On the other hand, he predicted, Microsoft customers are going to like Lync, particularly because it integrates so well with existing software ranging from SharePoint to Word and Excel.
In another interview, Kevin Rice, global network architect at AT Kearny, said that the management consulting firm has now deployed Lync among all of its 3400 employees worldwide.
Acceptance has generally gone well, he said, since workers are already familiar with Microsoft tools, anyway, and Lync has allowed lots of them to start working at home instead of going into the office.
Some of the workers -- particularly older people -- have turned out to be camera shy, and insist on doing audio instead of video conferencing. But many others are happy to get a chance to "present themselves in a visual way." Some have even gone to professional photographers to get their pictures taken for the thumbnails on the contact lists, paying for the photos out of their own pockets.
But Rice said he's hoping Microsoft will build smartphone clients for RIM and Android, too, since employees at Kearney work with a mix of different smartphones.