OpenERP launches latest version of its open enterprise resource planning suite

Belgium-based commercial open source software vendor OpenERP today announced the availability of OpenERP v6, the latest version of the company's enterprise resource planning (ERP) suite. OpenERP v6 includes updates to almost all of the components in the suite, including its CRM, Purchase Management, Manufacturing, Warehouse Management, Project Management, Accounting, Marketing, Human Resources, and Point of Sale modules.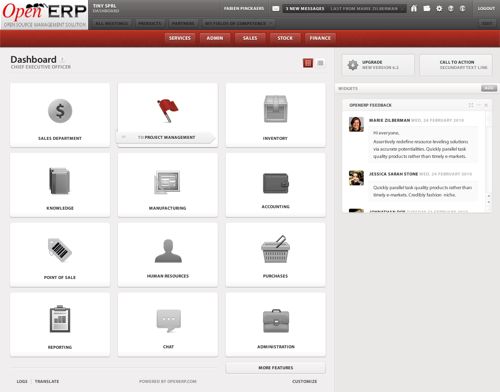 OpenERP says this version has more than a hundred new features in total, which are the result of thousands of customer and community suggestions and more than a year's worth of development from its community of 800 individual developers.
For those who have never experienced OpenERP, the company has set up a demo server where you can play around with examples of the different software modules. The idea is that customers can build a comprehensive ERP system one module at a time, eventually growing it into an end to end solution, contained within a single piece of software.
OpenERP v6 costs $39 per user per month and comes with a 1GB per user data limitation. Like previous versions, it can be deployed on site, and this version brings with it an SaaS on-demand version.
"We believe that SaaS and Open Source are an interesting combination. The customers always have an option if for any reason the SaaS platform no longer meets their needs. It is their insurance policy, and it is in line with our no lock-in policy," Mark Laporte, OpenERP's Chief Operations Officer said in a statement today. "Our competitors will never offer such flexibility".