Kyocera outdoes Samsung with a real dual-screen Android smartphone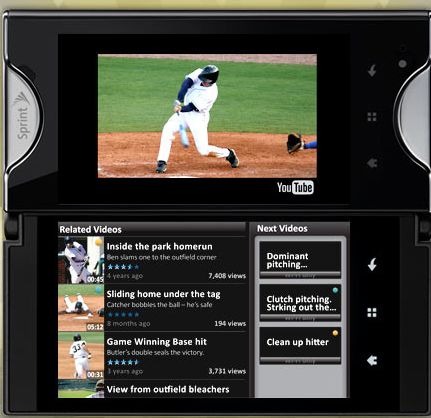 Kyocera Communications and Sprint on Monday unveiled a new dual-screen Android smartphone called the Echo, which uses two discrete touchscreens, unlike the other "dual screen" Android phone, <!article id="1289262406">Samsung's Galaxy S Continuum which is just a single touch panel broken into three independent sections.
When closed, the Echo looks like a regular touchphone, but when opened, its two 3.5" touchscreens can be used to run two full screen applications pseudo-simultaneously, one on each screen. Sprint has given this the name "Simultasking," since it's a task that has heretofore not been done on Android phones. Echo can also be used in "tablet mode" and have a single application blown up to 4.7" to take up the combined screen real estate, or apps can be optimized to use each screen individually. In "optimized mode," the Echo looks quite a bit like a Nintendo DS, dividing an app's functionality into two useful parts.
<!image id=5875 center>
This actually proves to make Echo an interesting counterpart to the Sony Ericsson Xperia Play, a smartphone designed something like the PSP Go, optimized for gaming. When apps are optimized for Echo's dual screens, designers could use the top screen to display in-game action and the bottom screen as the interactive panel. At Monday's event in New York City, Sprint and Kyocera showed off a version of The Sims optimized for the Echo.
Echo has a 1 GHz Snapdragon processor with 512MB RAM, running Android 2.2. It also has 5-device Wi-FI hotspot functionality, 1GB of built in storage and support for microSD cards up to 32GB, a 5 Megapixel camera, and, of course, two 3.5" WVGA capacitive touchscreens.
Sprint will be <!external href="http://now.sprint.com/echo/">selling the Echo in the Spring for $199 with a two-year contract and $100 mail-in rebate, making this Kyocera's first flagship Android smartphone.
<!Image id=5873 left>
Kyocera's first device running Android, the Zio, launched in 2010 under the Sanyo brand <!external href="http://www.mycricket.com/smartphones/android">with Sprint MVNO Cricket. The device was aimed at the entry-level market with a "first generation" 600 MHz applications processor at a time when market leaders had moved on to gigaherz speeds and beyond. So even though the dual screen form factor is less than unique, this is still a big step for the Japanese company into the United States smartphone market.
<!image id=5877 center>