Android Market e-books goes live; music and movies to follow?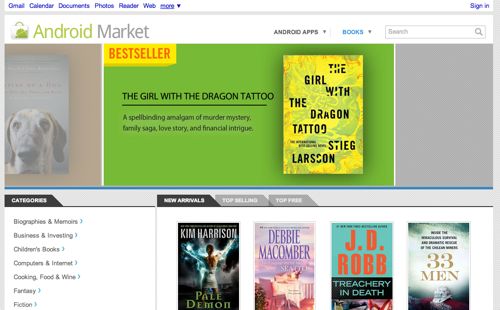 The Android Market has never had any specific ban on carrying and selling straight up text documents, and users could search through the market and find apps that were, in effect, standalone e-books. Now, however, there is a section <!external href="https://market.android.com/books/">dedicated specifically to e-books which currently features around 500 titles from publishers such as Simon and Schuster, Macmillan, W.W. Norton and Co., Hachette, and more.
The URL for the site, market.android.com/books, was discovered by <!external href="http://www.androidguys.com/2011/02/19/android-market-urls-hinting-books-music-movies/">Android Guys last week, and the site noted that URLs for /music, and /movies worked and resolved to the Android Market.
Thursday is the first day the /books URL began landing on a real market page.