Internet Explorer 9 RTM launches at SXSW, hours ahead of global availability

As expected, Microsoft launched the Release to Market version of Internet Explorer 9 on Monday. The rollout began earlier in the day with a launch in the UK, and was heralded at an event at SXSWi in Austin, Texas. The browser will be available in 39 languages across the globe, and can be downloaded at Beautyoftheweb.com or right here in our FileForum at midnight EST March 15.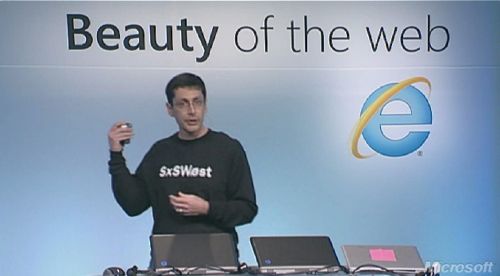 "The browser is only as good as the operating system it runs on," Internet Explorer general manager Dean Hachamovich said on Monday evening's event in Austin. But with HTML5 letting the browser tap into a system's GPU for hardware acceleration, the browser can actually do just a little better than that. That was chipmaker AMD's angle on Monday.
"A fully hardware-accelerated browser, taking advantage of Windows and the latest in PC hardware innovations…means the Web as we know it is about to change," Ryan Gavin, senior director of Internet Explorer said in a statement on Monday. "GPU-powered HTML5 in Internet Explorer 9 with AMD Fusion chip technology means Web developers have the ability to create fast, immersive and increasingly beautiful Web experiences."
<!Image id=6136 center>
Along with Microsoft, AMD used the South by Southwest festival to launch its "IE9 hearts APU" notebook giveaway, which definitely has a hipster feel to it.
Hipster marketing aside, IE9 has actually proven to be extremely popular. With all the different versions adding up to 40 million downloads, Hachamovich today said IE9 was the fastest growing Internet Explorer beta ever. It has been downloaded by about 2% of the total Windows 7 install base.