Tip: Use CD or USB stick to clean up malware-infected PCs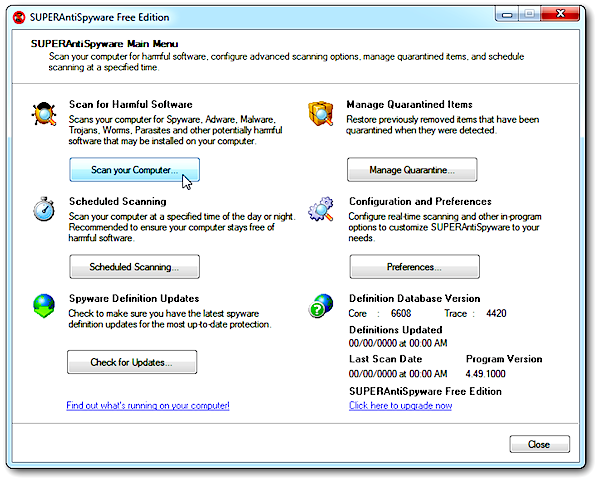 Everyone should have layered protection when it comes to malware. Unfortunately, different antivirus and antispyware programs aren't designed to sit side-by-side and play nice with each other due to the always-on nature of their protection, but that doesn't mean you can't beef up your security with the help of some free scan-and-remove tools.
The only downside with this approach is that it helps to have these installed before you become infected. The nature of malware is to make it as difficult as possible to install any new software after infection, so what can you do if you've already been infected? If you have access to another, uninfected computer and a blank CD or USB flash drive, then read on for a potential solution.
Most security tools are known to turn a blind eye to certain types of threat -- rogue software is just one example. Thankfully tools like Malwarebytes Anti-Malware and SUPERAntiSpyware are less forgiving, and often end up rooting out threats more established tools ignore.
Both programs come as free and paid-for versions -- the free versions are perfectly adequate for most peoples' needs. They don't offer any real-time protection, so will sit happily alongside your existing security software, offering another welcome layer of protection.
The problem is getting them installed in the first place; both will install from Safe mode, where typically malware is crippled and can't wreak as much havoc, but what if you can't boot into Safe mode? Aware of this Achilles heel, many a malware infection disables Safe mode by deleting a Registry key that produces the Blue Screen of Death whenever you attempt to enter Safe mode.
Thankfully, all is not lost. If you have access to another computer, the folks behind SUPERAntiSpyware have produced a portable version of their scan-and-remove tool, which requires no installation and can be run directly from CD or USB flash drive.
Disinfect your PC
Start by downloading SUPERAntiSpyware Portable Scanner to your hard drive; this downloads the program and the very latest definition files so there's no need to try and update it after running the tool.
The downloaded file will be given a random filename and have a .com extension. This is normal, as it helps the program evade detection. Once downloaded, either burn this to CD or copy it to a USB flash drive. If you choose the latter option, make sure you write-protect the flash drive after doing so using a free tool called USB Write Protect, which will prevent the drive from becoming infected.
Now switch your attention to your infected PC. Reboot in Safe mode if possible, then insert the disc or flash drive and double-click the downloaded file to launch SUPERAntiSpyware Portable Scanner, which will hopefully both detect and remove the infection in question.