Amazon's Android App Store begins rolling out to U.S. customers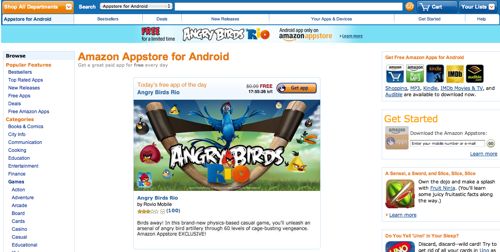 Leading Web retailer Amazon today launched its official app store for Android mobile devices. Rumors of this app store <!article id="1285791096">first surfaced in late 2010, and Tuesday's launch follows a lawsuit by Apple <!external href="http://www.businessinsider.com/apple-amazon-app-store-2011-3">over Amazon's use of "app store" to describe it.
Like Google's revised Android Market, <!external href="http://www.amazon.com/appstore">Amazon's Web-based app store pushes downloaded apps from a browser to the wireless device. Amazon's app store, however, requires that a client application be installed on the target device to allow downloading.
Since this is a third party app store, the Android device must also be authorized to allow applications from "unknown sources," and this means AT&T customers do not have access to it.
Part of the store's splashy launch is its tie-in with Rovio's blockbuster mobile game Angry Birds. The latest version of the game, Angry Birds Rio, is available for free in the Amazon App Store today.
This is the same retail strategy Amazon uses for selling music and other goods: Select promotional discounting. AmazonMP3 Store cycles albums in and out of the $5 or less discount section, so select content is often far cheaper than on other music stores. For example, The Strokes' new album is available for $3.99 today only. Apple's iTunes sells the same album for $6 more.
The approach could be a boon to mobile developers looking for a better way to sell their stuff rather than just give it away and hoping for the upsell. Anyone shopping Amazon should be used to short-term sales like the one today for Angry Birds Rio. Amazon won't just be competing with Google's Android Market but Apple's App Store, too.