Google launches '+1,' search result upvoting

Google on Wednesday announced it will be testing "+1", a button akin to Facebook's "Like" that lets users show their approval for search result relevance.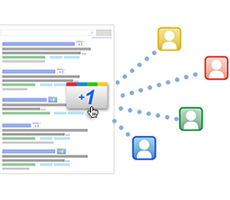 The +1 feature is only available to Google profile/Gmail users who are signed into their accounts when using Google search. Once the experimental feature is activated, an animated button appears next to all search results, which lights up whenever you mouse over a particular result.
Similar to Facebook's "Likes," Google saves and indexes all +1's in their own tab in a user's Google Profile. Search results that have been given the +1 stamp are then indexed more highly when linked friends perform similar searches. This does not, however, mean your +1 votes are limited to just your immediate connections. Quite the contrary, they are public and can appear in anyone's search results.
"Even if none of your friends are baristas or caffeine addicts, we may still show you how many people across the web have +1'd your local coffee shop," Product Manager Rob Spiro said in Google's official blog today.

This is still an experimental feature which Google will incrementally roll out, first to English language users, then to more across the globe. Initially, +1's will only appear alongside search results and ads, but they will appear in more places as the feature grows.
To opt into the +1 experiment, visit Google Labs.