Amazon lowers Kindle's price in exchange for advertisements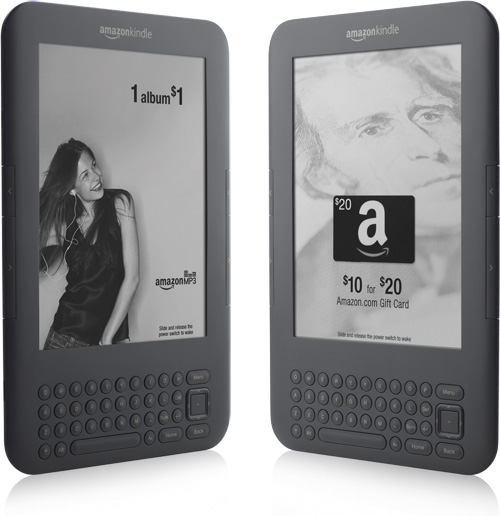 Amazon on Monday announced it had dropped the price of the third generation Kindle e-reader by $25. If this reduction in price came as a result of the usual maturation of technology (where declining manufacturing costs are passed along to the consumer), it would not be an especially newsworthy event. However, the price was reduced for a different reason: because the Kindle e-reader can now display sponsored advertisements.
The Kindle's <!article id="1241053687">famous screensavers can now be replaced by full screen advertisements which are customizable in the "Manage Your Kindle" section on a user's Amazon.com account. Users can indicate the amount of screensavers they see that include elements such as landscapes and scenery, architecture, travel images, photography, and illustrations.
All advertisements will be vetted in Amazon's new "AdMash" application, which behaves as a sort of "Hot or Not?" service for ads. In AdMash, users are presented two ads side by side, and they pick the ones that they prefer. The ads that receive the most votes then qualify to become sponsored screensavers.
<!image id=6363 center>
This ad-supported Kindle is known as the "Kindle with Offers," and is in all other respects exactly the same as the 6" Kindle Wi-Fi version. Though ad-subsidized gadgets have <!external href="http://www.larwe.com/technical/webplayer_main.html">existed in the past, this is a rare instance (perhaps even the first) of a gadget where advertisements are offered as an optional price-cutting feature.