Norton 2012 security software may be beta, but it's polished and free (for now)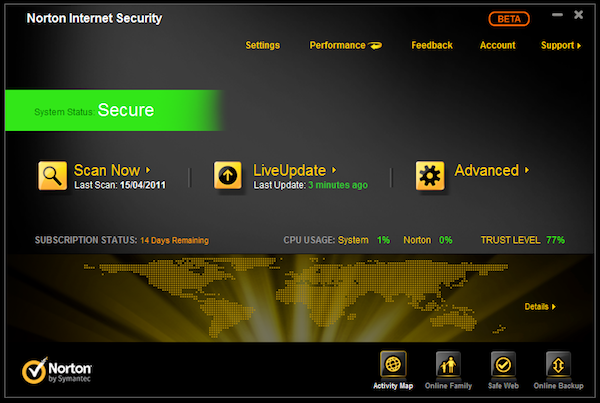 The first sighting of next year's security suites is something we still associate with the autumn, along with cooler weather, shorter daylight hours and the uncomfortable realization that Christmas isn't so very far away. Symantec seems determined to change that, though, and even though it's only a few months since Norton AntiVirus and Internet Security 2011 were released, the 2012 product range has released to public beta today.
These are clearly very early versions, then, but if wasn't for the word "BETA" on their consoles then you'd find it difficult to tell, at least initially. Installation is as quick and easy as ever: you don't even have to reboot once the process is over. The core Norton Internet Security 2012 process required only a little under 14MB of RAM (Private Working Set) on our test PC, so they're not exactly demanding. If the suite is missing any features, then it's hard to tell: you get on-demand antivirus scanning, strong real-time protection, a very configurable firewall, phishing protection, password management, accurate spam filtering and a whole lot more.
New features this time around include full Google Chrome support, and so if you launch Chrome, Norton's Safe Web will add safety ratings for each link in your search engine results, and you'll be able to use Norton Identity Safe to manage your passwords, fill forms and more.
Identity Safe also works in Internet Explorer and Firefox, or course, and new support for storing your data in the secure Norton cloud means you'll be able to manage and access your logons and passwords from multiple computers.
Scanning improvements start with Symantec abandoning the Windows task scheduler, and replacing it with one of Symantec's own, which means you can now schedule tasks to run when your PC is idle, as well as at fixed times. A less visible change sees Symantec's SONAR technology now able to classify processes as malware based on a much wider range of criteria, helping users to block new threats quicker than ever.
There are plenty of smaller, but still welcome changes, everywhere you look. So Download Insight 2.0 now monitors the stability of programs, as well as their trustworthiness. And so if you're downloading an application that regularly crashes (according to other Norton users), then you can be warned in advance.
Enhanced performance features include the ability to restrict Internet Security 2012?s use of bandwidth. If you're on a slow wireless connection, say (or a particularly expensive mobile broadband plan), then in a few clicks you can tell the program to go online for critical updates only, or block them altogether.
If you run into any problems with either AntiVirus or Internet Security 2012, then a new Autofix feature may be able to help. Just click Support > Get Support and the system will scan your system for installation or configuration issues, automatically fixing anything that it recognises.
It's an impressive debut, and if you'd like to take a look, then free extended trial versions for both Norton AntiVirus 2012 and Norton Internet Security 2012 are available now. Symantec will allow you to extend the trial period as it comes to an end, but don't lose sight of the fact that these are betas, will contain bugs, and so shouldn't be relied upon to deliver rock-solid protection. They're worth a try, but only for a short time, and then you'll be better off switching to something finished and feature-complete.
Get more security applications news like this at Software Crew.