BitTorrent's massive overhaul, Project Chrysalis, rolls out in Beta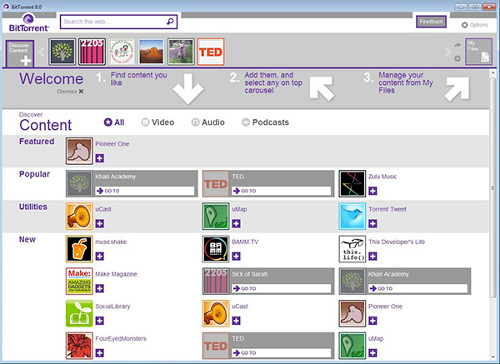 BitTorrent has released the first beta of Project Chrysalis, the next generation redesign of BitTorrent's Mainline filesharing client.
About six months ago, BitTorrent <!external href="http://blog.bittorrent.com/2010/11/24/coming-soon-project-chrysalis/">announced it was doing an experiment with the Mainline BitTorrent client that would be "more than a radical aesthetic and UI overhaul, more than cool new features," but "a new beginning."
In march, the team put up the very first Aplha versions of the new client, which introduced the concept of "legal" channels endorsed by content owners, revealed the increased emphasis on community the software would carry, and also showed off the new ability to transcode files for consumption on other devices: TVs, mobile devices (tablets and smartphones), set top boxes, DVDs, USB Drives, and so forth.
"The goal is make downloading torrents easier, intuitive and more streamlined, while retaining all of the power and sophistication you currently enjoy at the core," the BitTorrent team blogged <!external href="http://blog.bittorrent.com/2011/03/03/project-chrysalis-update-alpha-arrives/">at the time.
The Personal content channel feature in Project Chrysalis is an interesting addition in this beta because it is similar to services such as Dropbox, which let users share huge files privately with other users. Users can put up the files they want to share, and then send invitations out on Facebook or Twitter, and the invitees can download and comment on the content. In the Chrysalis beta there is no limit to file size or the number of channels that users can create.
<!external href="http://www.downloadcrew.com/article/22502-bittorrent_8_beta">Download BitTorrent Project Chrysalis Beta 1 here.