Twitter acquires TweetDeck in battle for Twitter power users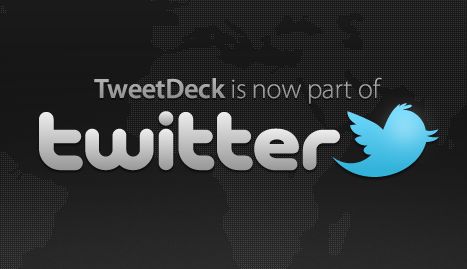 After a couple of days of rumors, microblogging service Twitter has officially come forward and announced that it has acquired popular third-party Twitter dashboard TweetDeck.
"TweetDeck is a great example of a third-party developer that designed tools for the incredibly important audience of Twitter power-users and, in turn, created value for the network as a whole," Twitter CEO Dick Costolo said on Wednesday. "As Iain's [Dodsworth, TweetDeck founder] journey suggests, there is significant opportunity for developers who deliver insights that foster a more engaged Twitter user base."
The acquisition was completed on Tuesday, and TweetDeck founder Iain Dodsworth on Wednesday said they are now in the process of joining Twitter's "flock."
"We remain the same team, staying in London, with the same focus and products, and now with the support and resources to allow us to grow and take on even bigger challenges," Dodsworth <!external href="http://blog.tweetdeck.com/its-official-tweetdeck-has-been-acquired-by-t">said on Wednesday.
This acquisition comes on the heels of a <!article id="1299894502">crackdown on third-party Twitter clients which Twitter platform lead Ryan Sarver said was done to create a "less fragmented world," of Twitter clients.
Shortly after this change to the platform, major third-party Twitter client maker UberMedia was <!article id="1303160483">reportedly in "advanced talks" to acquire TweetDeck itself. UberMedia built a successful business on top of Twitter, but has come to blows with the microblog <!external href="http://money.cnn.com/2011/02/18/technology/twitter_suspends_apps/index.htm">for terms of service violations. Many expected UberMedia to acquire TweetDeck and ultimately <!external href="http://www.loiclemeur.com/english/2011/02/ubermedia-now-controls-20-of-tweets-sent-daily-congratulations-to-tweetdeck-and-ubermedia-here-is-how-i-feel.html">control 20% of all tweets being sent daily.
Instead, UberMedia teamed up with one of Twitter's biggest celebrity power users, Ashton Kutcher, and launched a new Windows/Mac Twitter client this week <!external href="http://aplus-app.com/">called "A.plus". Like TweetDeck, A.plus focuses on real-time updates in a multi-pane interface.
<!image id=6873 center>
Rather than acquire all of TweetDeck's power users, it is attempting to lure them away with a shiny new product.