Android dominates smartphone market but consumes tons of data

Market research company Nielsen has released its smartphone market share figures for the first quarter of 2011 which show that Android has risen to both the top of market share and data consumption.
Android's meteoric rise can be seen quite clearly when comparing Nielsen's first quarter 2010 numbers with those it just released.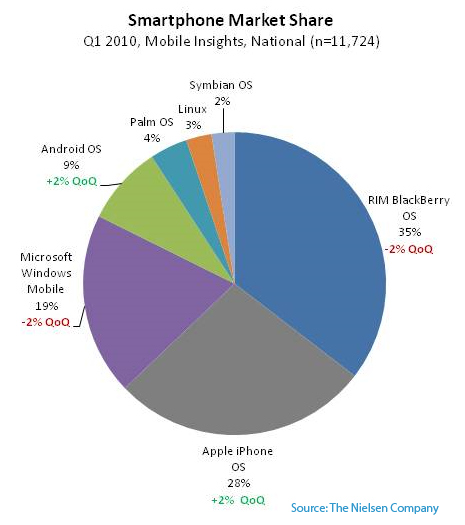 Last year, Android had only 9% of the market, but in the same period this year, it has 36%.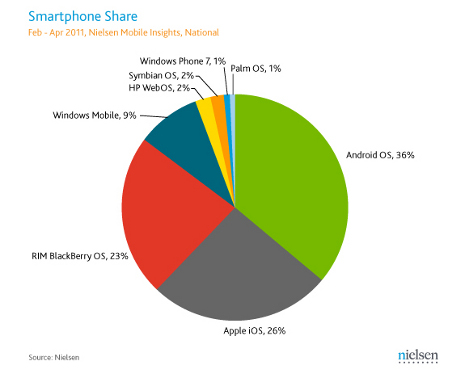 Nielsen found that iPhone owners are more likely to download applications, stream music and video, download music and play games online, by a decent margin. However, in its analysis of some 65,000 phone bills, Nielsen found that Android users were consuming an average of 582 MB of data per month, where iPhone users were only consuming 492 MB.
This fact could point to a couple of notable conclusions, one favorable, and one unfavorable. The favorable conclusion would be that higher data consumption despite lower prevalence of data-consuming behavior is the result of higher user engagement. In other words, Android has a smaller set of more diehard users.
The unfavorable conclusion would be that Android applications are simply accessing the Web much more than their iOS counterparts. Or, in other words, Android is a bandwidth hog.
There is anecdotal evidence that could support the unfavorable conclusion.
In the last year, there have been incidents where customers were hit with unexpectedly large bills. The Samsung Captivate on AT&T, for example, is configured by default to turn off Wi-Fi when it is "asleep." Background apps then are forced to transfer their data over the cellular connection even if the user was in range of Wi-Fi. Users complained that their phones would initiate huge 3G data transfers at night when they thought they would happen over Wi-Fi.
For users who experience this type of problem, there is fortunately an entire section of apps in the Android Market that monitor app data consumption. Some of them are designed for battery conservation, others for adhering to data plan limitations, but their ultimate function is the same.