Spanish cops ask for trouble, say they've nabbed 3 Anonymous hackers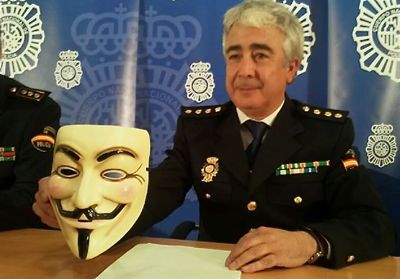 Spanish national police have arrested three individuals responsible for hacking Spanish banks BBVA and Bankia, Italian energy company Enel and the governments of half a dozen different countries in Europe, South America, the Middle East and Africa, and Oceania. Officials believe the three men were members of Anonymous, a quasi-hivemind "hacktivist" group that has been blamed for the repeated attacks on Sony's PlayStation Network.
The three men were arrested in Barcelona, Almería and Alicante after they attempted to carry out a DDoS attack on the websites of Spain's two main political parties as well as the Spanish parliament on the eve of election day. The server they used to orchestrate these attacks, as well as ones against the website of Spain's central election commission and the Catalonian police force, was confiscated.
At a press conference on Friday, Manuel Vázquez, commissioner of the <!external href="http://www.policia.es/org_central/judicial/udef/bit_alertas.html">Technological Investigation Brigade (BIT) said the Brigade had been following these individuals since October 2010, after an attack on the Ministry of Culture's website. Vázquez said the BIT had analyzed more than 2 million lines of text from chat rooms and hacker websites to arrive at the conclusion that they were the Spanish leaders of Anonymous.
Vázquez referred to the three as "The Cupola" of Anonymous, and naturally, the Internet responded in hysterics. <!external href="http://twitter.com/#!/search/cupulasinexistentes">#cupulasinexistentes shortly became a trending topic on Twitter, with users pointing out the folly of claiming to have taken down "higher ups" in a group with no hierarchy.