RockMelt becomes 'the Facebook browser' with Beta 3 release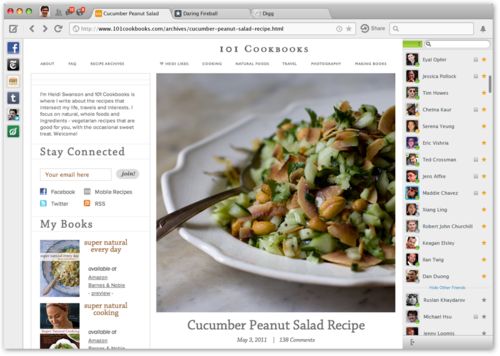 Chromium-based "social" Web browser RockMelt on Tuesday received an update to Beta 3, which adds about 30 new features and a tighter integration with Facebook which comes as a result of working directly with the popular social network.
"Our goal is to build a browser that makes surfing the web better, easier, and more fun. We couldn't be more excited to work with Facebook to make social a core browser component and to continue the browser revolution," the RockMelt blog said today.
<!image id=7144 center>
Naturally, most of the updates with this beta focus on integrating RockMelt with Facebook. The Friend Request, Message, and Notification icons that you find across the top of the Web-based Facebook page have been built directly into the browser, chats that open in the Web-based Facebook can now pop out in dedicated RockMelt chat windows, and there is a new Facebook app and photo album viewer to boot.
RockMelt's unified buddy list feature, known as the "Friend Edge," has gotten a major overhaul with this release, and can now be expanded or collapsed, scrolled, repositioned, customized via drag and drop, and searched through.
Download RockMelt Beta 3 from <!detail id="1308077344/1">FileForum or <!external href="http://www.downloadcrew.com/article/20703-rockmelt">Downloadcrew now!