Hulu Plus launches on just six Android smartphones, no tablets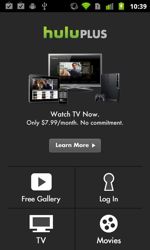 Hulu Plus, the portable subscription-based streaming TV service from NBC Universal, Fox, and Disney-ABC has finally begun to roll out to Android-powered devices, starting with just a small fragment of the available devices, and adding more throughout the year.
Support is limited to only six phones: Nexus One, Nexus S, HTC Inspire 4G, Motorola Droid II, Motorola Droid X and Motorola Atrix. The joint venture did not say why these phones were chosen or why the launch group was so small.
Hulu Plus for Android is similar to Hulu Plus on other devices, for $7.99 a month, subscribers get access to all current-season episodes of popular TV shows from ABC, Fox, and NBC as well as movies from Miramax and Criterion Collection which all can be streamed over Wi-Fi, 3G or 4G connections.
<!image id=7248 center>
Hulu Plus for Android is now available <!external href="https://market.android.com/details?id=com.hulu.plus&feature=search_result">in the Android Market for supportive devices.