LulzSec livetweets attack on Rupert Murdoch's news empire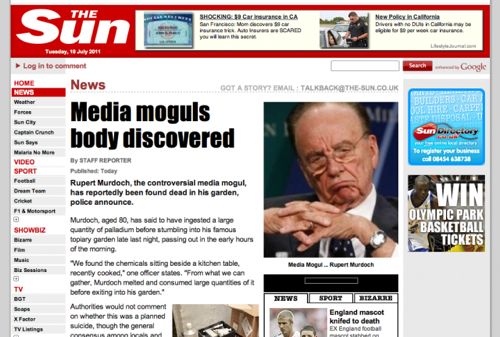 Mischievous hacker group LulzSec on Monday repeatedly attacked websites belonging to international media conglomerate News Corporation, calling it "Murdoch Meltdown Monday."
At 5:40pm EST, LulzSec announced on Twitter that it had "owned" the <!external href="http://www.thesun.co.uk">UK news outlet The Sun, and replaced the front page with a fake one which proclaimed that News Corp. Chairman and CEO Rupert Murdoch was found dead.
Though a short lived hack, the group harnessed social media in a new and unique way, and began to narrate its hacking activities on Twitter as it "battled admins" to keep the fake site up.
The group then simply redirected the site to its Twitter feed, where it then announced it had "wrecked" the site of News Corp. subsidiary News International. A quick ping of the site's IP (143.252.148.165) shows no connections are being made, indicating the use of LulzSec's <!article id="1308607159">weapon of choice, the distributed denial of service (DDoS) attack.
LulzSec has likely chosen News Corporation as its target because of the recent "phone hacking" scandal surrounding British tabloid and News Corp. property News of the World, which was accused of "hacking" into the voicemail accounts of the victims of several murder investigations as well as terror attacks over the last decade.
In June, LulzSec claimed it had disbanded, but this attack appears to be a return for the hacker group.
"I know we quit, but we couldn't sit by with our wine watching this walnut-faced Murdoch clowning around." The group said on Monday.