Capitol communications systems crushed under debt ceiling debate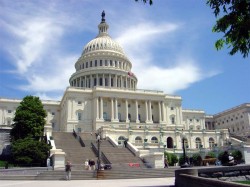 As the US Congress heads down the final stretch before August 2nd, the date colloquially known as "<!external href="http://twitter.com/#!/search/%23debtocalypse">#debtocalypse," or the point at which the United States could lose its capacity to borrow any more money, the Capitol's telephone and computer systems are strained from all of the incoming messages from the public.
On Tuesday, after President Obama urged voters to call or email their representatives in Congress to support a debt ceiling compromise, House telephone lines were flooded with calls.
An internal message sent to House officials said <!external href="http://blogs.wsj.com/washwire/2011/07/26/live-blog-the-u-s-debt-battle/?mod=e2tw">phone lines were almost filled to capacity: "Due to the high volume of external calls, House telephone circuits serving 202-225-XXXX phone numbers are near capacity resulting in outside callers occasionally getting busy signals," the message said.
The typical call volume is 20,000 per hour, but the system was reportedly sustaining over 40,000 per hour.
Congressional websites felt the crush of extremely high traffic as well, as sites for Speaker of the House John Boehner and Senate Minority Leader Mitch McConnell were overrun shortly after Obama's speech on Tuesday. Likewise, the sites for Senators from Virginia, Florida, Idaho, South Carolina, <!external href="http://www.northjersey.com/news/politics/NJ_GOP_websites_down.html">New Jersey, Kentucky, Minnesota and Iowa were knocked out, as well as sites for Representatives from North Carolina, New York, and <!external href="http://www.miamiherald.com/2011/07/26/2332150/debt-irked-voters-shut-down-congress.html">Florida.
Friday morning, Obama told concerned Americans to "Make a phone call, send an email, Tweet. Keep the pressure on Washington."
It appears this caused a repeat of Tuesday's traffic overload to happen again. Another system alert went out to House staffers warning that Capitol phone lines were approaching capacity again, according to reports.
We attempted to connect to the US Capitol switchboard, and it rang but never connected. Though that appeared to be the only number affected by the traffic on Friday morning. Calls we placed to Boehner's office, however, went through to voicemail and a human operator without any problem, Cantor's office went directly to voicemail. Similarly, the websites of the <!external href="http://www.house.gov/">United States House of Representatives and <!external href="http://www.senate.gov/">Senate appear to be unaffected, and we clicked through to the websites of 30 different, randomly chosen Congressmen and all were reachable.