Lion Tweaks takes control of OS X 10.7 features from Apple and gives it back to you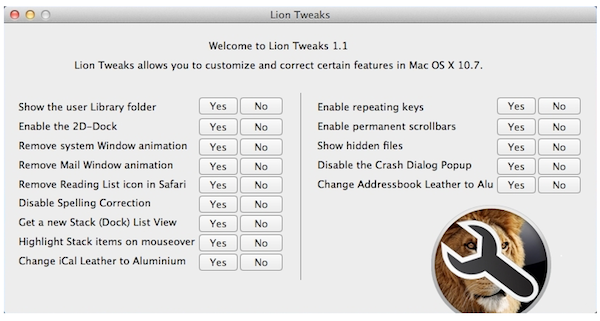 A new operating system is always greatly anticipated and this is certainly true for Mac OS X. Apple's Lion caused waves of excitement when it released last month but, as is often the case, not everything that has been added to or changed in the OS has been received quite so warmly. While Lion has generally received good reviews, there are still a number of aspects that have caused irritation to users who have upgraded from Snow Leopard and this is something that Lion Tweaks can help with. A simple freeware tool that can be used to adjust settings that are not to your liking and disable features you find to be useless or annoying.
For example, reply to an email using Mail and you see a rather nifty animation. You also see this windows animation throughout Lion, particularly when switching between spaces. On a MacBook or Mac Mini, these animations are too slow for comfortable viewing. After a while, they restrict productivity.
Other options include the ability to disable permanent scrollbars, opt to show hidden files as well as disabling spelling corrections and repeating keys. For advanced users, you can enable access to the Library, which is hidden for each user under Lion.
On the appearances front, it is also possible to change the leather interface that graces Address Book and iCal to a more stylish aluminium look. It's not great, certainly not as polished as the new Mail user-interface, but certainly a lot better than the faux leather. There is already a reasonable amount of tinker with here, but Lion Tweaks is going to be an app to keep an eye on as it develops over time and more and more options are added.
All these tweaks can be turned off or on through Terminal. There's nothing new here. Lion Tweaks simply pulls them together within one application. If you change your mind and decide you like the new window animations after all, you can quickly turn them back on using the same tool.
You can find out more about this free app and download a copy of the software by paying a visit to the Lion Tweaks review page.