Proof that the iPhone 4 and Galaxy Tab have had sex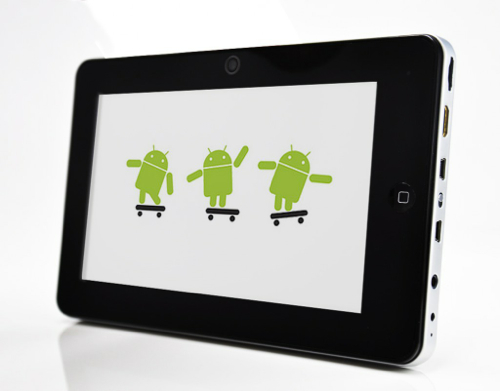 Over the last couple of years, companies have come to view me as a writer who mostly covers Android. I suppose it's pretty true, but I like to think that I'm not exhibiting any sort of bias toward it, but rather just covering Android stories because there are simply more companies utilizing it than any other mobile OS, and more interesting stories are born from it every week because of this.
At any rate, I get pitched A LOT of Android gear, and trust me on this one, most of it is not worth even talking about, much less using.
But two weeks ago, I got a very random, no-bullshit pitch from some Hong Kong company I've never heard of called Marvel Digital. The product they were pitching was called the TBT-10C 7 inch Mercury Pad, and I could not pass up the opportunity to point it out now that Apple and Samsung are coming to blows over copyrights and patents.
If the iPhone 4 and 7-inch Samsung Galaxy Tab had a random encounter at the Christmas party, this would be the unwanted bastard child.
The email I got just said the name of the product, listed its specs, listed the price, linked to a rather unremarkable demo video, and said nothing else.
It was actually kind of cool that there was no "pitch" in the email. No mess about who should buy it, or why it's an "iPad killer," it was just specs and pics. If that's not exactly what most Internet geeks are looking for, I don't know what is.
<!image id=7754 center>
So here are the specs…
CPU : 1GHz Samsung S5PV210 ARM Cortex-A8 processor
Memory : DDR2 512MB
Storage : 4GB/8GB/16GB
OS : Android 2.3
LCD : 7" TFT, 16:9, 800 x 480
Touch Screen : Capacitive Multitouch
Camera : 0.3M forward facing, 2 megapixel regular
SD Card : MicroSD up to 32GB
HDMI : 1080P HD Video Output
USB : USB Host 2.0, USB Device 2.0
Audio : Built-in Stereo Speaker, 3.5mm Stereo Headphone, Built-in Microphone
WIFI : 802.11 b/g
3G : External USB 3G Modules only (HUAWEI:E220, E1750, E156G, ZTE:MF637U)
G-Sensor : 360 Degree G-Sensor
Battery : 2250 mAH
Power : 9V/2A power adapter (100--240v input)
Power jack : 9V/2A power adapter (100--242v input)
Weight : 510 g
Here's the price…$259
And here's what I imagine happened ten minutes before this device was conceived…
<!image id=7755 center>
I know you're not going to rush out and buy one of these, but given the recent <!article id="1312915571">intellectual property conflict between Samsung and Apple over the Galaxy Tab 10.1 in Europe, I just thought we should spread the idea of love between the two products.