Chinese government documentary shows attacks against US sites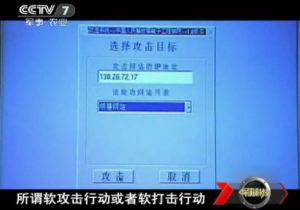 It was probably a slip-up and appears to have been taken down, but a Chinese documentary on cyber-warfare shows attacks being performed against US-based Internet properties of Falun Gong and other organizations banned in China. Thanks to F-Secure for passing this on, although they appear to have picked it up from the Epoch Times.
The video was entitled "Military Technology: Internet Storm is Coming" and was published on the Government-run TV channel CCTV 7, Military and Agriculture (at military.cntv.cn). According to F-Secure the specific URL was:
//military.cntv.cn/program/jskj/20110717/100139.shtml
And the captured segment at around 13 minutes into the program. The main video is still up, but I don't see the captured portion so it's likely, as F-Secure expected, that the embarrassing part has been removed.
The address of the site shown being attacked belongs to the University of Alabama at Birmingham. F-Secure provides these
translations of the Chinese text in the attack screen:
People's Liberation Army Information Engineering University

Select Attack Destinations

Target IP

List of Falun Gong sites

Falun Dafa in North America
Falun Dafa website
Meng Hui website
Witnesses of Falun Gong website 1
Witnesses of Falun Gong website 2

ATTACK CANCEL
"ATTACK" is one of the buttons in the program.
Cyber attacks by Chinese authorities against western targets are widely assumed to be widely committed, but it's rare for proof like this to be made so convenient. F-Secure has posted an animated GIF showing the attack screen.
Larry Seltzer is a freelance writer and consultant, dealing mostly with security matters. He has written recently for Infoworld, eWEEK, Dr. Dobb's Journal, and is a Contributing Editor at PC Magazine and author of their Security Watch blog. He has also written for Symantec Authentication (formerly VeriSign) and Lumension's Intelligent Whitelisting site.