5,000 Samsung Windows 8 developer tablets to be given out at BUILD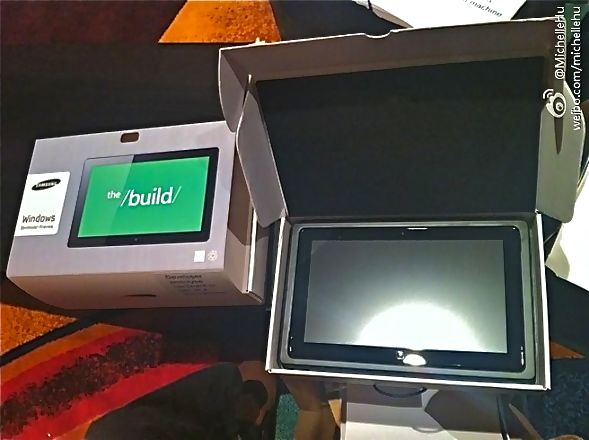 Big news will be coming out of Anaheim, California today as Microsoft holds its BUILD developer conference, which is expected to focus largely on the next frontier of Windows development: the cross-platform Windows 8.
Your friend and mine, Betanews managing editor Joe Wilcox will be covering the event, and early leaks suggest that he might be heading back to his hotel room today with a brand new Windows 8 developer tablet from Samsung, which is pictured above.
MobileTechWorld got the tip today about the photo, which was posted by Michelle Hu from IT168 on Weibo (a Chinese Twitter clone) this morning, just a few hours before the event's opening keynote is scheduled to begin.
We'll be paying strict attention to BUILD today, so if you're looking for a steady stream of Windows 8 news, stick with us.
UPDATE: Just like Samsung did at Google I/O, the South Korean tech giant is giving 5,000 of these tablets to BUILD attendees today.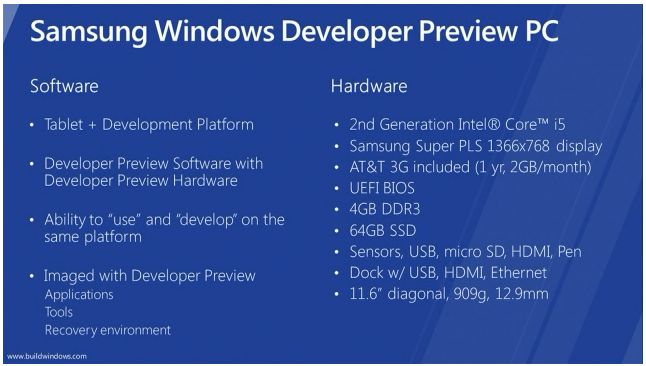 Here's the full specs from the picture above, taken from Sinofsky's keynote: 11.6" (1336 x 768) touchscreen, second generation Intel Core i5 processor,4GB DDR3 memory, 64GB SSD storage, USB, MicroSD, HDMI, Pen input, free AT&T 3G for 1 year (2GB per month cap), Windows 8 developer build, and UEFI BIOS (which Michael Angiulo, Corporate Vice President of Windows Planning, Hardware & PC Ecosystem, said posts in three seconds.)
One of the coolest features of this tablet and its desktop dock is that it supports multi-monitor output by default.