Netflix expects 1 million fewer subscribers thanks to new pricing

In a message to its shareholders on Thursday, DVD rental and video streaming company Netflix revealed that its subscriber acquisition has significantly slowed due to the revised subscription rates it announced two months ago.
Under the company's new pricing structure, its unlimited video streaming feature, which was previously included freely in its DVD-by-mail subscription packages, would incur its own subscription cost for all subscribers. The effect this had on the price at the consumer's end was shocking, and for some subscribers, it represented a 90% price increase in their subscription packages.
At the time, We posed the following question to Betanews readers:
"Netflix has separated DVD and streaming plans -- raising prices 60 percent for many customers. How will you respond?"
Only 14.39% of responders said they would continue with their current plan and nearly 60% planned to close their account.
Now, Netflix says it expects to end the quarter with 2.2 million DVD-only subscribers instead of the 3 million it expected in July, and 9.8 million streaming only customers instead of the 10 million it had previously projected.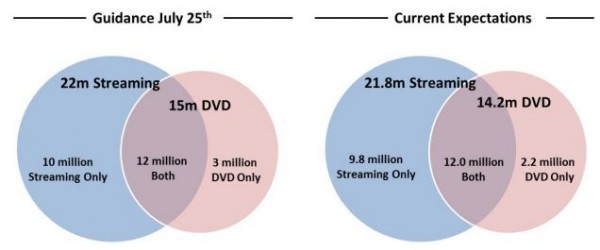 The net loss from their prior projection is a million subscribers.
It should be noted that this 36 million total still represents growth from last quarter, which Netflix ended with 24.59 million subscribers, it's just that growth has been happening considerably slower than the company initially expected.
"We know our decision to split our services has upset many of our subscribers, which we don't take lightly, but we believe this split will help us make our services better for subscribers and shareholders for years to come," the company's statement today said.
The company has not changed its financial guidance as a result of this projected loss in subscribers, and its international subscriber guidance is the same as it was in July, but the market didn't take today's announcement too kindly, and shares of Netflix opened 15% lower than yesterday.