Take control of Startup programs with Microsoft Autoruns 11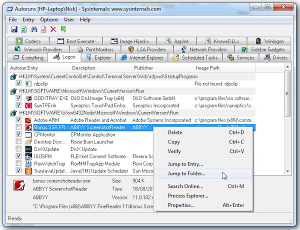 The art of streamlining your PC's startup to reclaim system resources and speed up boot times is an ancient one. Windows even comes with its own built-in tool, msconfig, for tweaking the system startup, but it's limited and awkward to use.
Novices who want a quick-and-easy speed boost without having to think too hard about it should consider free products like Soluto and Startup Delayer, but if you want full control over what starts with your PC, and aren't afraid to delve deep into your system, then take a look at Microsoft's free Autoruns tool instead, which has recently been updated by its authors, Mark Russinovich and Bryce Cogswell, to version 11.0.
Autoruns makes it possible to do more than just disable or delete unwanted startup programs, it allows you to go even deeper into your system, too. New to version 11, just released, is the "Jump to folder" option in the Entry menu -- selecting this opens the folder containing the file being executed by the currently highlighted startup entry. This complements the "Jump to entry" option, which either selects the parent folder or Registry entry that references the entry.
Once downloaded, extract the contents of autorun.zip to a suitable folder, then either double-click autoruns.exe (XP) or right-click it and choose "Run as administrator" (Vista or Windows 7). Once launched, switch to the Logon tab to view all the startup entries.
Autoruns will display an admirable amount of information about each one, helping you to identify it. If you still can't work out what an entry is, right-click it and choose Search Online to Google the startup program name.
Entries can be disabled -- just untick them -- or deleted completely (right-click and choose Delete). Never delete an entry before disabling it and then rebooting to see what, if any effect, it has on your PC.
You'll notice Autoruns boasts a massive number of tabs, 18 no less, that allow you to peek into other parts of your system, so long as you know what you're doing. From here you can examine, disable and delete scheduled tasks, drivers, Services, audio and video codecs, Explorer extensions, IE plug-ins, Sidebar gadgets and more.
It's an undeniably powerful program, and Autoruns should be used with care, but if you're an experienced user who wants to delve deep into parts of your system untouched by other start-up managers, then this is the tool for you.
Autoruns 11.0 is a free download for PCs running Windows. In addition to adding the new "Jump to folder" option, version 11 adds several new auto-start locations to its monitored list. The command-line tool also gains a new switch showing file hashes alongside an option to show auto-start entries for all users of the PC.