Motorola combines its two strongest phone brands, unveils the 4G Droid Razr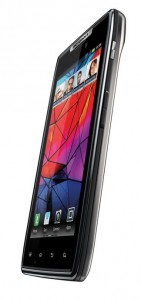 Motorola Mobility on Tuesday revealed its newest flagship Android smartphone, the Droid Razr, a device that combines Motorola's most lasting brands in a single package.
Droid Razr has a 4.3" Super AMOLED qHD display with Corning's Gorilla Glass protecting it. The original Razr's claim to fame was that it was flat and dramatically thinner than other flip phones available at the time of its release. The Droid Razr attempts to do the same thing for touchphones, and comes in at a slim 7.1mm in thickness. Motorola Mobility CEO Sanjay Jha on Tuesday said it will be the thinnest smartphone on the market.
With steel and kevlar used in the chassis, the Droid Razr isn't just thin, it's also light. Its weight comes in at just 127 grams (4.47 Oz). The reason why this is so impressive is because the Droid Razr has 4G LTE connectivity and an 1800 mAh battery, yet still offers such a skinny and light profile.
The Droid Razr has a dual-core 1.2 GHz processor with 1GB of RAM and 32 GB memory (16 GB on-board and 16 GB microSD.) It has an 8 megapixel camera and forward-facing 1.3 megapixel chat camera capable of 720p video capture.
In terms of software, it runs Android 2.3.5 Gingerbread, and comes with a few Motorola add-ons for improved usability. One of these add-ons, "Smart Actions," is a battery management application that automatically adjusts settings to conserve battery life. For a 4G phone, this sort of energy management is of paramount importance. It also features a new cloud syncing component called "MotoCast," which lets users stream content (music, photos, video) from their computer straight to their phone from any location.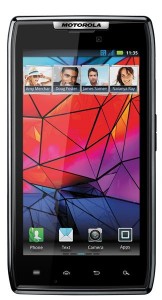 It also includes a handful of enterprise-specific productivity features such as remote wipe, pin locking, AES encryption, full version of quickoffice, and the full webtop features that are present in the Atrix and Bionic.
The Droid Razr will be available for Pre-order through Verizon Wireless on October 27, and will hit stores in November. It will cost $299 with a two-year service contract from Verizon Wireless. Globally, the device will be known simply as the "Motorola Razr" (just like its predecessor) and it will be available in November.