BurnAware 4: Three versions, and one of them free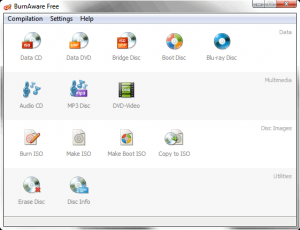 BurnAware 4, which ships in Free, Home and Professional flavors, is the latest version of the lightweight but powerful burning tool that handles a wide variety of discs.
Burnaware Free handles most common disc based tasks. You can copy data to all types of CD, DVD and Blu-ray discs, subject to the limitations of your drive. It supports bootable and multi-session discs and it's possible to make audio discs and disc copies.
BurnAware Home does everything the free version does plus a little bit more. You can copy discs from drive to drive on the fly and you can recover files from incomplete disc sessions and damaged discs. The home version also enables you to extract individual music tracks from audio CDs.
BurnAware Professional, as expected does everything that the home version can, but it also supports multiple burners so that you can produce several copies of a disc at once. It supports on the fly burning to multiple drives which makes it ideal for duplicating discs or making a production run of a particular disc.
New in version 4 is the ability to copy an audio disc to an image file so you can store audio CDs on your hard drive without converting their contents to WAV files or MP3s. The direct or on the fly copying that's supported in the Home and Professional versions is a new feature in this update as is the option to skip the detection of the optimum write speed. This can cost precious seconds if you already know what the best write speed for your current compilation.
BurnAware 4.0 Free, Home or Professional versions are available for download now.