Replace your TV with an iPad or Android tablet and Hauppauge Broadway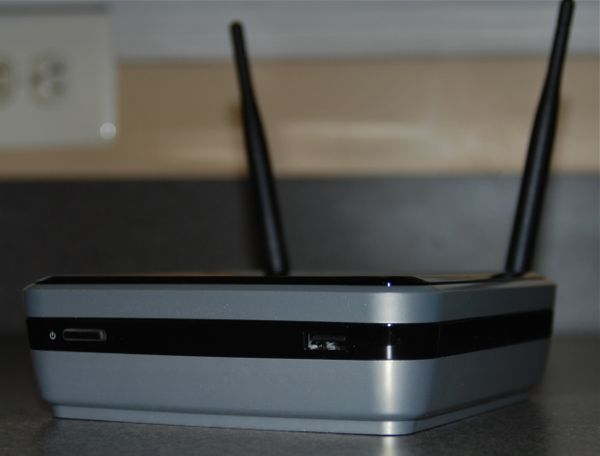 The whole idea of "cutting the cord" means a household cancels its cable or satellite television subscription and relies on IP-based content delivery methods that offer greater choice of programming. The trend often doesn't focus on users actually getting rid of their televisions as well, even though it is entirely possible with technology that is available right now.
And I'm not talking about Netflix, Hulu, Crackle, Amazon Video, Vudu, Ultraviolet, or any of the other pay-per-view or subscription streaming video services, even though they really could turn a mobile device into a TV replacement. I'm talking about the Hauppauge Broadway, which I spent this week testing.
It's a network-attached video receiver, that encodes all incoming video feeds into H.264 and pipes them out onto your network, making them accessible through most Web browsers both for desktop and mobile OSes. So with this device, any content that isn't already available in a digital format is encoded live for you.
I've got to say, it's really impressive.
If you're a "cable cutter," you can hook Broadway up directly to an ATSC antenna and pipe your free over-the-air TV channels out onto your Wi-Fi network, and they can be watched on your tablet, smartphone, or PC. Or if you have an unencrypted (ClearQAM) digital cable subscription, you can hook up your cable directly to the Broadway and do the same thing. If you use a satellite or cable set-top-box, it also works, but it requires use of the less popular IR blaster for control when you're away from the box. You can actually hook up pretty much any coaxial or S-Video output (i.e. security cameras) to the Broadway and watch whatever content you want on your tablet, smartphone or PC browser.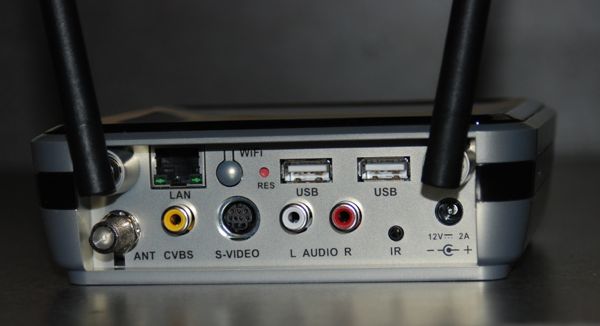 Broadway also has three USB 2.0 ports, which it does not talk about in the instruction manual or on the product's site, but it is presumably designed for use with Hauppauge's other products such as the HD PVR or USB TV tuners.
In addition to making your video content available on your home wireless network, Broadway runs Oracle's GoAhead WebServer and makes your content available remotely. Setup for this is incredibly simple. All you need to do is connect to Broadway's local IP address and enter the four digit passcode that you assigned to the box. This act verifies your device for use with the Broadway and pairs it with your home IP address. Then, you open port 80 of your router, and when you navigate to Distan.tv in your browser on any network outside of your home, your always-on Broadway device is available to you. It's remarkably easy.
So with the combination of all of the subscription and pay-per-view streaming services I mentioned above, plus cable or OTA Television available on your PC or Tablet (iPad and Android Honeycomb/Gingerbread both worked in our tests this week), you could really make your device of choice into a perfect TV replacement.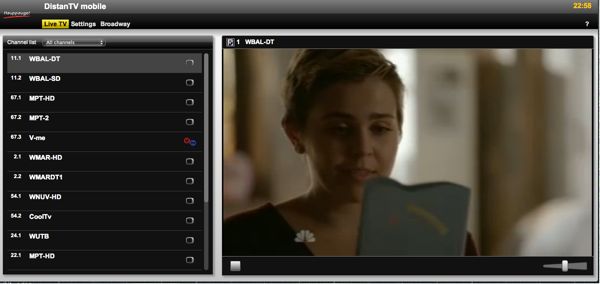 Naturally, there are areas where this makes more sense than others: in a college dorm room, for example, where the dimensions of the room are not generally conducive to viewing televisions over 25" in size. In these cases, a notebook PC and external monitor can serve not only as a learning tool, but also as an entertainment hub for content delivered via streaming and through Distan.tv. Alternatively, iPads and 10" Android tablets in charging docks can be used as TV replacements with a 2.5 foot ideal viewing distance.
With a retail cost of $199, Hauppauge Broadway misses the "magic price" by a hundred dollars. However, connecting TV content to your home network and serving that content out to the Web is so easy and so broadly compatible that it's hard to deny the value that it provides.