Android Market is unstoppable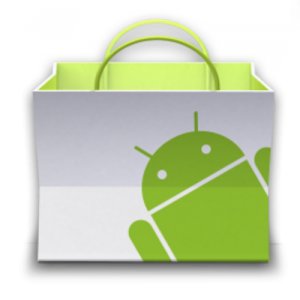 The tipping point fast approaches in the Android/iOS platform wars. This week, Android Market reached an important milestone: 10 billion downloads. While still far behind Apple's App Store, Android Market is catching up at a ferocious pace. Only huge iOS device shipments can slow Android's advance now, and Holiday sales will matter much there.
For comparison, App Store reached 15 billion downloads in July, up from 10 billion in January and 3 billion a year earlier. But Android Market is accelerating at faster pace, which isn't surprising given the number of device activations (550,000-plus per day) and how many more handsets/tablets are available compared to iPhone and iPad. Android Market went from 3 billion downloads in March to 6 billion in July to 10 billion in December.
However, Android users can buy from other marketplaces, and there are several, including Amazon Appstore for Android. Android Market download numbers don't account for these, some of which, Amazon namely, are better curated.
During second quarter, Android downloads exceeded iOS, according to ABI Research, with 44 percent and 31 percent market share, respectively.
"Android's open source strategy is the main factor for its success", Lim Shiyang, ABI research associate, says. "Being a free platform has expanded the Android device install base, which in turn has driven growth in the number of third party multi-platform and mobile operator app stores. These conditions alone explain why Android is the new leader in the mobile application market".
Androids and iPhone dominate the US smartphone market, according to Nielsen: "83 percent of app downloaders, that is, those who downloaded an app in the past 30 days, use iPhone or Android smartphones". At the end of October, 44 percent of US cellular subscribers had smartphones. In the app platform wars, in the United States at least, there is little room for another major competitor.
"Despite leading in total mobile application downloads, Android's app downloads per user still lag behind Apple's by 2-to-1", Dan Shey, ABI practice director, says. "Apple's superior monetization policies attracted good developers within its ranks, thus creating a better catalog of apps and customer experience".
In other words, developers make more money from App Store than Android Market, where free -- fitting with Google's business market -- rules. It's a shortcoming that could help iOS in the platform wars.
Successful platforms share five common traits:
1. There are good development tools and APIs for easily making good applications.
2. There is at least one killer application people really want.
3. There is breadth of useful applications.
4. Third parties make lots of money.
5. There is a robust ecosystem.
No. 4 matters most, and it's where App Store beats Android Market. But No. 3 is hugely important, too, and there Android Market has trailed behind App Store. Until recently. Over the last six months, there is increasing trend of important new apps releasing simultaneously, or thereabouts, for both platforms. Android even scored some notable short-term exclusives, such as Adobe Photoshop Touch, Proto and Debut, which released about three weeks ago for Android tablets. You can't get them for iPad, yet.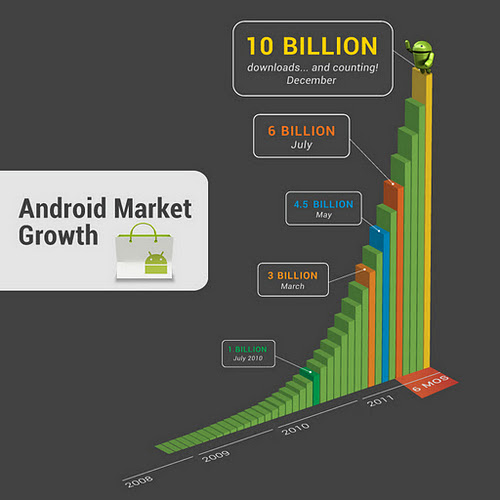 Then there is the number of devices question. Apple claims more than 250 million iOS devices out there, compared to 200 million Androids. iPad is in demand this holiday, and iPhone 4S is still fresh to market. Then there is Apple's push into China, which is now its second-most important market by revenue. Meanwhile, Amazon Kindle Fire is tracking for 5 million units sold during the holiday quarter, while Verizon offers eight and soon nine (with Galaxy Nexus) 4G LTE Android phones. Then there is Samsung's Galaxy S II, which is in some countries selling as well as or better than iPhone 4S. The point: Number of devices matter, too.
By the way, Eric Chu, Android Developer Ecosystem, announces: "To celebrate this milestone, we partnered with some of the Android developers who contributed to this milestone to make a bunch of great Android apps available at an amazing price. Starting today for the next 10 days, we'll have a new set of awesome apps available each day for only 10 cents each... Asphalt 6 HD, Color & Draw for Kids, Endomondo Sports Tracker Pro, Fieldrunners HD, Great Little War Game, Minecraft, Paper Camera, Sketchbook Mobile, Soundhound Infinity and Swiftkey X".
Related: "Android is unstoppable"